DeHoff's goalkeeping developed over time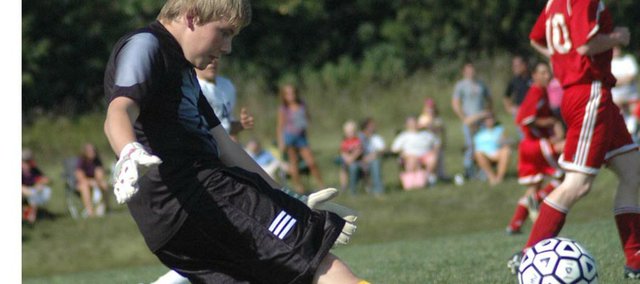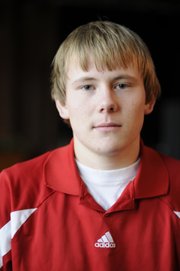 His coach calls him a student of the game.
You could say that about Tonganoxie High junior goalkeeper Mitch DeHoff. He has been playing soccer since before he completed kindergarten and started manning the net when he was a small boy at the age of 6.
With all that studying and all that experience, it shouldn't come as a surprise to learn DeHoff was recently named to the Lawrence Journal-World All-Area Boys Soccer team for his play. But the honor, DeHoff said, caught him a bit off-guard.
"I was pretty shocked, actually," the keeper said, explaining that he wasn't sure he would be receiving any postseason honors given the Chieftains' 4-12-1 record.
However, if you look at his stats, the numbers are impressive. DeHoff finished 2008 with a save percentage of 87 percent and helped decrease the number of goals THS allowed per game from six in 2007 to 1.9 this year.
Tonganoxie coach Ken Lott said DeHoff often garnered praise not only from his THS teammates, but also his opponents.
"The other teams have been commenting on our goalkeeper throughout the season," Lott said, noting that coaches told him several times that DeHoff was keeping THS in games because without him Tonganoxie foes might have scored a few more goals.
DeHoff's ability to read his opponent before a shot was even fired, Lott said, was what made him so effective.
"He studies his opponent real well," Lott said. "He's kind of a student of the game. He pretty much knows (within) the first five or 10 minutes if you're going to take a shot, when you're going to take a shot, if you're going to pass it."
That ability took time to develop. It started in youth soccer when his father, Bob DeHoff, coached Mitch and would have him play a half in the field and a half in goal.
"That helped me understand what the team is supposed to be doing and what the other teams are trying to do to score," the grateful son said.
His goalkeeping abilities really improved over the last few years. DeHoff was a backup goalie his freshman year at Tonganoxie and did a lot of work in the following offseason to improve his skill set. He attended a three-day goalkeeper camp and immediately noticed a difference.
"It helped me with the angles and just basic shot-blocking," DeHoff said. "I got my technique down and started playing a lot better."
Although he played in the field for Tonganoxie his sophomore year, DeHoff didn't forget what he had learned. He played in the Sunflower Games this past summer to hone his goalkeeping art and it didn't take him long to feel comfortable in goal when he became the Chieftains' varsity starter this year. DeHoff said he gained a lot of confidence in Tonganoxie's third match of the season, a 2-2 tie with Basehor-Linwood, when THS defenders didn't let many shots past them and DeHoff was able to clean up most of the ones that did.
"Then I got the confidence to know that I could step up at my position," DeHoff said.
From that point on, the goalkeeping student was there to lead his team.
Said Lott: "He makes up for a lot of defensive mistakes that we make and recovers it."