2008: A look back at the year that was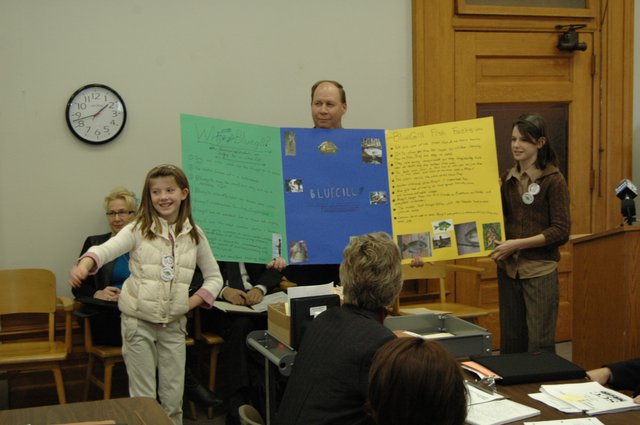 Editor's note:
Here is a look back at stories from 2008. This is the first installment of the year in review, which will continue in future editions of The Mirror.
January
The Tonganoxie School Board had two applicants to choose from as members decided who would serve out the unexpired term of board member Bob DeHoff.
Tonganoxie residents Doug Tate and Jennifer Hendrix applied for the position, which became vacant in October when DeHoff resigned after serving 10 years on the board. The board took applications to fill the vacancy until a Dec. 14, 2007, deadline.
Residents discovered they would have to alter travel arrangements for what could be more than two years as construction work to improve County Road 1 south of Kansas Avenue to Kansas Highway 32 began.
As of Jan. 2, the bridge leading over the Kansas Turnpike on County Road 1 was officially closed as construction began to make the bridge compatible for a new interchange on the Kansas Turnpike.
A 4-month old bobcat that was struck by car a few weeks earlier was nursed back to health at Operation Wildlife near Linwood.
Graves Talent Company moved into what was formerly the Fourth Street Café downtown.
Matt and Vicky Bichelmeyer bought the portion of a downtown building that housed Pelzl's Do-It Best Hardware and V & S Variety store, which closed in 2007. The building adjoins their Bichelmeyer's Steakhouse at 427 E. Fourth St.
When the Kansas University football team won the Orange Bowl and clinched its first Bowl Championship Series victory ever, two McLouth High School graduates — Claudia Alterman and Kyrstan Perry — were there. Not only were the two at Dolphin Stadium, but the KU football equipment managers were on the sidelines in Miami.
Michael Vick, the former Atlanta Falcons quarterback who pleaded guilty to federal dogfighting charges, was transferred to the Federal Prison Camp in Leavenworth, according to Traci Billingsley, spokeswoman for the Federal Bureau of Prisons.
Tonganoxie schools Superintendent Richard Erickson planned to scale back the district's budget the next three years to rectify an error that cost taxpayers more than $368,000 in additional taxes. The district planned to cut back its budget by $415,000 the next three years through lowered mill levies to make up for the error. At a Jan. 14 school board meeting, members unanimously approved the restructuring by a 6-0 vote.
The Tonganoxie Chamber of Commerce recognized more than one person as Citizen of the Year at the annual meeting. Bo Himpel and George Cooper were recognized as Citizens of the Year by the chamber.
In a special election on Tuesday, Jan. 15, a small turnout of Tonganoxie residents voted "no," 143-33, on changing the size of the City Council's quorum.
The Tonganoxie High wrestling team won its second straight Randy Starcher Memorial Invitational at THS.
The Tonganoxie High School debate team returned home from the Class 4A state debate championship in Garden City with the first and second-place trophies in two-speaker debate, as well as third place in four-speaker debate. A team of juniors David Powell and Dalton Lawson were state champions, with seniors John Lane and Matt Williams as the runners-up in two-speaker debate. The four-speaker team of juniors Addy Phelps and Alicia Osborne and seniors Ann Erickson and Jake Bontrager took home bronze.
The Tonganoxie High girls basketball team defeated Eudora, 51-37, for its third Tonganoxie Invitational championship in five years.
Officials put Leavenworth County's cost of improving County Road 1, part of the project to open a new interchange on the Kansas Turnpike, at $10.8 million. The total included construction, engineering, right of way acquisition and utility relocation.
Three Tonganoxie High band members made school history when they were selected to the Kansas Music Educators Association 1A-4A All-State Band. Senior Ryan Wolfe, and juniors Rex Hancock and Ryan Brammer became the first THS students to ever make the prestigious band.
The Tonganoxie High girls basketball team defeated previously unbeaten Basehor-Linwood, 50-44, in overtime.
Tonganoxie Middle School fifth-graders testified before the Agriculture and Natural Resources Commitee at the Statehouse in Topeka as they continued to lobby for making the bluegill the official state fish. Kansas is just one of a handful of states without an official fish. The students were third-graders in Karen Stockman's class at Tonganoxie Elementary school two years before, when the class first started lobbying for their cause as part of a class project.
February
The McLouth High School scholars bowl team finally knocked off its nearby rival, Oskaloosa, and in the process, the Bulldogs buzzed their way to the Class 3A state tournament by finishing second at a 16-team regional. Team members were Sarah Woodhead, Grant Smelser, Martin Lucas, Phillipp Wnuck and Steven Nowlan.
The latest total cost estimate for CR-1 improvements leading to a proposed interchange with Interstate 70 was $14.3 million. The county agreed to pay up to $10.8 million out of sales tax revenue, with a $2 million contribution from the Kansas Turnpike Authority, $500,000 from a federal appropriation and a contribution from KDOT for a tie-in with U.S. Highway 24-40 yet to be determined at that time. According to a memorandum from Mike Yanez, Tonganoxie city administrator, dated Nov. 3, 2006, the City Council was willing to contribute up to $1 million out of the city's portion of a countrywide, 1-cent sales tax that runs through 2016. Because the County Road 1 project was not within the city limits, Vestal said the city was crimped in what it could do without the county's invitation to participate.
The Tonganoxie School Board approved Tonganoxie Elementary School principal Tammie George's request to have TES kindergarten students attend school all day, every day beginning in the 2008-09 school year. The new kindergarten schedule changed from the school's all-day every-other-day schedule.
The THS girls basketball team won its 10th game in a row with a 52-47 road victory at Lansing.
Leavenworth County Development Corp. board members said they hope a new strategic plan would give the organization a vision and framework to go forward in retaining and attracting primary businesses to the county. The plan, presented to the board by Irv Jensen, a planning consultant with Iowa-based Smart Solutions Inc., and penned by an LCDC steering committee during the past several months, called for a slight reorganization of the agency's structure and a rededication of its 22 board members.
Leavenworth County Sheriff Dave Zoellner contended that there's more work to be done in his department, and he filed for re-election Feb. 1.
The Tonganoxie High wrestling team tied a school record by qualifying six wrestlers — Cameron Adcox, Travis Adcox, Matt Brock, Wyatt Coffin, Steve Davis and Kevin Hamm — for the Class 4A State Wrestling Tournament.
A 5-year-old Linwood-area girl received food through tubes, just days after a bullet struck her as she played in her backyard, according to the girl's grandmother, Pat Cook. Katherine Cook was taken to an area hospital after a bullet struck her in the head.
The Tonganoxie School Board approved to have an auditor evaluate job descriptions of staff at the Tonganoxie School District's central office for no more than $3,000. On a 6-0 vote, with Darlyn Hansen absent, the board moved to hire an auditor to evaluate the job descriptions of secretaries and clerks at the board office.
THS wrestlers Cameron Adcox (sixth, 285), Travis Adcox (fourth, 140) and Matt Brock (fourth, 130) medaled at the Class 4A State Wrestling Tournament in Salina, marking the first time in THS history that more than one wrestler placed at state in the same season.
Tonganoxie High senior javelin thrower Roxi Grizzle signed a National Letter of Intent to compete for Nebraska University.
Mill Valley ended the Tonganoxie High girls basketball team's win streak at 13 by defeating the Chieftains, 43-42, on Senior Night.
March
A 37-year-old Tonganoxie man, William Washington Jr., was killed in an accident when his vehicle was struck by a semi-truck that was traveling east on U.S. Highway 24-40.
County commissioners denied and delayed two contentious planning and zoning applications in a public meeting Feb. 28. The first was a special use permit for a firearm training facility south of Eisenhower Road on County Road 5. The second was the final plat for a 70-acre, subdivided lot near the intersection of 256th Street and Dehoff Drive west of Tonganoxie.
The THS girls basketball team's season came to an end in a 67-52 sub-state championship game loss to Holton. The Chieftains finished the season 19-4.
The Tonganoxie City Council unanimously voted to amend a contract with BG Consultants, the city's engineering firm, to provide all the engineering work needed to relocate the stop light at Northstar Drive to Main Street. The move could help reduce the number of accidents at that intersection.
After two months of interviews and years of debate, Leavenworth County commissioners hired the county's first-ever administrator. Heather Morgan, who worked in Topeka as the state Juvenile Justice Authority's director of public and legislative affairs and federal programs, was picked to assume her role as county administrator April 7. Morgan, a graduate of Kansas State University with a master's degree in public administration, also spent time assisting the Governor's Office with the Kansas Division of the Budget before deciding to come to Leavenworth.
Members of Tonganoxie's skateboarding community met with City Administrator Mike Yanez and David Hamby, of BG Consultants, the city's engineering firm, to develop ideas for a Tonganoxie skate park. The more than a dozen skaters who attended the meeting sat together around tables going through other skate parks designed by BG to see what features the skaters liked and didn't like.
After seven years as head coach and two as an assistant, David Walker stepped down from the helm of the Tonganoxie High boys basketball team. Citing a desire to spend more time with his family, Walker informed THS athletics director Brandon Parker of his decision a few days after the Chieftains' season came to an end in the Class 4A sub-state tournament and his resignation was announced at the school board meeting on March 10.
Hundreds of Tonganoxie residents dressed in their winter coats — some even wrapped up in blankets —
braved the 35-degree temperatures to watch the 20th Annual St. Patrick's Day Parade. "It was an incredible turnout considering the weather," said Cheryl Hanback, director of the Tonganoxie Chamber of Commerce, an organization that helped sponsor the parade. "There was a lot of enthusiasm and it was a lot of fun."
About 500 people crowded in lines waiting for the start of the annual Easter egg hunt March 22 at Chieftain Park.
Slowdown in growth hadn't struck all area counties lately, as Leavenworth County showed some progress. According to the new Census report, from July 1, 2006, to July 1, 2007, Leavenworth County experienced a 1.4-percent growth rate. In fact, Leavenworth County added 1,012 residents during the time period. That's nearly 100 more than Douglas County did, despite Leavenworth County being about 40,000 people smaller than Douglas County.
A group of 49 college students, including Tonganoxie High graduate Megan Holton, spent their spring break helping to rebuild Greensburg, which was hit by an enhanced F5 tornado in 2007.
April
Devin Stuart, a second-grader enrolled at Tonganoxie Elementary School, had been sick off and on for two months, and has even taken himself out of recess because of fatigue. On several occasions, his mother, Tammy Lynn, had to pick Devin up from school during the day because he was not feeling well. It was discovered that he had lymphoma type B, a form of cancer.
After a rash of stores either closed or moved away from downtown in 2007, City Council members, residents and business owners got together to find a way to stop downtown from "bleeding." Four months and four presentations later, it was announced that it would be up to a five-person committee to choose what tools the city needed to fix what was ailing Fourth Street. The committee was to be comprised of a Tonganoxie City Council member, a member from the Tonganoxie Chamber of Commerce, a city staff person, a local business owner and a member of the Tonganoxie Planning Commission.
Leavenworth County Commissioners gave the go-ahead for bond counselors with an OppenheimerFunds branch in Overland Park to begin preparing and marketing a multimillion-dollar general obligation bond that would finance various capital improvements in the county, including work on County Road 1 south and west of Tonganoxie.
When Kansas won its first national championship in 20 years April 7 at the Alamodome in San Antonio, a few Jayhawk fans with Tonganoxie roots were on hand for the history. 1996 Tonganoxie high graduates Micah Bray, Clinton Goos and Christi Moore all made the trek to Texas to watch KU play in the Final Four and used the special occasion as a rare reunion.
The Tonganoxie High boys and girls track teams won team titles in their season debut at the Bobcat Relays at Basehor-Linwood.
A former Chieftain and current Tonganoxie resident was chosen to become the new boys basketball coach at Tonganoxie High. The hiring of Shawn Phillips, a 1994 THS graduate who resides in Tonganoxie, was approved at the school board meeting on April 14. Phillips came to THS from Turner High in Kansas City, Kan., where he completed his third year as boys varsity assistant coach and head junior varsity coach. Phillips' coaching career began at Tonganoxie in 1996 when he coached the Chieftains' freshman team for three seasons.
The fate of retail recruitment and retention along U.S. Highway 24-40 and on Fourth Street was left up to a five-member committee that, on April 21, made its recommendation, leaving it up to the city of Tonganoxie and the planners at Bucher, Willis & Ratliff Corporation, the city's planners, to redevelop Tonganoxie. The BWR proposal had a price tag of $33,700 and would include the core study, a communitywide survey, economic market study, community development meetings — called charrettes — and a final open house that would allow the community to have an input on the company's final report.
Third-graders at Tonganoxie Elementary School published a book. Students in Karen Stockman's class participated in a publishing party at TES as students from several classrooms celebrated their books being published by Nationwide Learning Inc., a Topeka company that has published books for TES classes — and other classes from preschool through college across the United States — the last several years. The book by Stockman's class, "K is for Kansas," made the final cut, and was one of the top 25 in the country.
THS senior Roxi Grizzle won the girls javelin at the Kansas Relays with a new personal and THS best throw of 163 feet, 11 inches. Later that day, freshman THS sprinter Jeremy Carlisle ran the 800-meter dash in 1:58.75, breaking a 25-year-old Tonganoxie record, and finished sixth in the event at the Kansas Relays.
The Leavenworth County Emergency Management Department conducted a mass casualty exercise with local emergency responders in order to test the countywide emergency operations plan.
Since Tonganoxie Martial Arts opened in 1977, Rex Hutton served as chief instructor. That changed the last week of April when Hutton handed over the reins to a young instructor, Cody Bell, with a different martial arts background, but similar goals for his students.
May
The Tonganoxie City Council voted 3-2 in favor of letting Tonganoxie liquor retailers to be open on three federal holidays. The ordinance allowed the liquor stores to sell their products on Memorial Day, Labor Day and Independence Day. Owners of liquor stores argued that these holidays fell on days of the week where they would normally be able to operate and they didn't want to lose that business. Councilmembers Jason Ward, Steve Gumm and Paula Crook voted in favor of the ordinance. Councilmembers Jim Truesdell and Tom Putthoff voted against the ordinance.
Robert Haberlein, a 20-year-old Kansas City, Kan, man, was found guilty of the 2005 murder of Robin Bell. The jury found Haberlein guilty on all three charges – first degree murder, aggravated kidnapping and aggravated robbery. Bell, a Tonganoxie resident was found dead, killed by a blow to the head with a metal tripod, at the Dollar General Store in Bonner Springs, which she managed. Haberlein was arrested along with John Backus, 21, and Amber Russell, 18.
Fox 4 television chose Karen Stockman to be their first Crystal Apple award winner for 2008.
The Tonganoxie High School forensics team won its third championship in school history. Team members were: seniors Sam Schnittger, Krista Jobst, Jake Bontrager, Ann Erickson and Matthew Williams; juniors Ben Field, David Powell, Ryan Brammer and Alicia Osborne; sophomores Emily Jefferies, Austin Baragary and Nic Irick. The championship came the same school year as Tonganoxie's 11th state championship in debate.
The Tonganoxie High School graduated a record number of 149 students in 2008 as well as the first two students to score 35 out of possible 36 on the ACTs. McLouth High School graduated 47 students in May.
Tonganoxie Mayor Mike vestal was the critical vote to fund $1.5 million that will go toward the development of County Road 1. The mayor broke a 2-2 tie vote and said, "I had to do a lot of soul-searching before I made this decision, but I really think it's the right thing to do," before entering his vote.
West Haven Baptist Church officially opened its $2.1 million, 16,000 square-foot expansion of its church. The new expansion added new classrooms, a kitchen and dining area, a more secure and high-tech nursery and a new area devoted for youth fellowship.
THS boys basketball player Gabe Belobrajdic, along with nine other area prep basketball all-stars in a game against the barnstorming seniors from the Kansas University's national champion men's basketball team.
The Shrine Rodeo made a second successful appearance at the Leavenworth County Fairgrounds despite five inches of rain that lead to 10 inches of mud in some places.
Larry Turpin received the Charles E. Taylor Master Mechanic Award, which honored his 50-year career as an aviation mechanic. The award recognizes aviation mechanics who have at least 50 years in aviation maintenance as an accredited mechanic and at least 30 years of certification as an FAA mechanic. The award is named after Charles E. Taylor, who is credited by the FAA as being the first aviation mechanic in powered flight. The FAA credits Taylor for designing and building the engine for the Wright brothers.
Tonganoxie Recreation Commission assistant director Paula Bollinger had her last day at the commission before leaving for Jefferson City, Mo., to be closer to family and to help her husband pursue other business opportunities. Bollinger was the assistant director for four years. Brad Eccles was hired to replace Bollinger in August.
THS senior Roxi Grizzle finishes her perfect season by defending her javelin championship by setting a new state meet record in javelin – 165 feet, 5 inches. THS brought home 14 Class 4A medals at the state championship in Wichita.
The McLouth High School Girls Softball team ends its 22-1 season with a third place in the Class 3A state softball tournament in Manhattan.
June
In a special meeting, Tonganoxie School Board approved the hiring of Kyle Hayden as the new assistant superintendent. Hayden was the superintendent at Ellis.
Kathy Bard, assistant city administrator earned a master's degree in business administration from the University of Phoenix.
Despite windy conditions that claimed a few tents, 39 teams spent the weekend preparing for the 17th annual McLouth BBQ Blowout. This year's overall winner was Rubbin-it-and-living-it BBQ.
Gage Hauk, 18, McLouth, was killed along with Roland Klundt, 20, Lawrence, during a robbery in Lawrence. Allegedly Hauk and Kellam Jones, 16, Lawrence, went into Klundt's home to commit the robbery when Klundt shot Hauk and then was shot by Jones.
The THS boys basketball team began basketball camp with Shawn Phillips, the team's new coach.
Shirley Martin retired form the U.S. Postal Service after working there for 30 years.
Ugandan President Lt. Gen. Yoweri Kaguta Museveni visited Fort Leavenworth to attend the graduation of his son Maj. Muhozi Museveni Kainerugaba from the Command and General Staff College.
Severe weather, including a tornado that touched down in Linwood, hit southern Leavenworth County.
Tonganoxie celebrated the 23rd annual Tonganoxie Days. New features in the 2008 festival were a chainsaw carving contest and a fireworks display.
Two people died after their plane crashed 5.5 miles south of Tonganoxie near Cantrell Road and County Road 1.
Once again, Roxi Grizzle was named the Kansas Girls Track and Field Athlete of the Year by Gatorade and RISE Magazine. This honor, which she also won in '07, came days before placing second in the women's javelin at the USA Junior Outdoor Track and Field Championships in Columbus, Ohio.
July
It was a month behind schedule, but after 11 months and 3 million dollars, Tonganoxie residents had a brand new water park. The Tonganoxie Water Park replaced the crumbling Chief Tonganoxie Pool, which served the city for 80 years.
Leavenworth County District Court Judge Frederick N. Stewart faced an official inquiry into allegations of sexual misconduct involving a former member of his staff. Stewart denied the allegations, and later announced he would retire from the bench after 31 years. In September a panel of the Commission on Judicial Qualifications ordered staying judicial proceedings Stewart as long as he were to remain retired.
Blake Phillips, 7, read 700 books during his first-grade school year.
Ken Mark, former Tonganoxie Recreation Commission Chairman, stepped down from his position on the board after 16 years of service.
Retail liquor storeowners reported brisk sales during July 4. The owners were taking advantage of a new city law that allowed them to sell liquor on Memorial Day, Labor Day and Independence Day.
The US Census Bureau reported that the population in Tonganoxie had grown 3 percent since 2007. The new population numbers went up 119 to 4,156.
Johnathan Wilkerson, 24, reported to the Tonganoxie Police that he was shot by a black man around 6 feet tall who then fled from his residence in the 1300 block of Raintree Drive. It was later determined that Wilkerson had shot himself and charges were brought on him for making a false report. He pleaded no contest to the charges and was sentenced to 90 days in the county jail, with all but 48 hours suspended and must serve one year of probation.
Ron Starcher, 55, died in a motorcycle accident on Kansas Highway 16, west of Tonganoxie. Starcher's daughter Lindsey said there was around 700 people who attended her father's visitation.
— Mirror reporters Benton Smith and Estuardo Garcia compiled this look back at the past year. For more on 2008, see upcoming editions of The Mirror.