Daycare offers unique playtime curriculum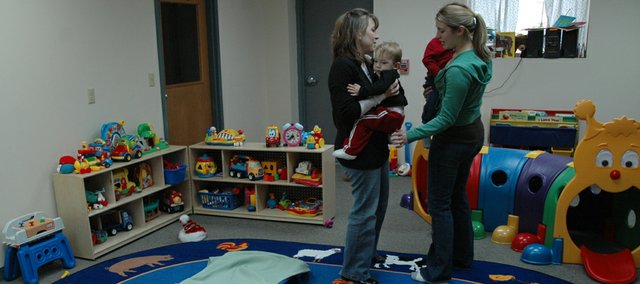 For the past 23 years, Shelly Snyder has devoted herself to the early-childhood industry and in doing so, began nurturing a dream.
This December, Snyder, along with her daughter Sara Snyder, fulfilled that dream and opened All About Kids, a daycare that sits on the border of Leavenworth and Wyandotte counties.
"I wanted a place where kids could be kids," Snyder said. "A safe, fun place where they could learn at the same time."
For the past 15 years, Snyder has been developing a curriculum that she said was what made her daycare unique. Her curriculum includes a lot of movement, mixed in with music and play, in addition to the typical academics that can usually be found.
"Our program offers many of the things we all know our children need to learn: ABC, 123, writing, science skills and math skills and reading lots of stories," Snyder said. "But we do that while we are doing what kids do best; be kids."
All About Kids, at 13651 Donahoo, offers 7,000 square feet of space for both learning and play. There is a large outdoor area with play equipment, a technology room with four computers and a piano, a gym and auditorium area, and designated colorful classrooms for each group. Snyder said that each program was tailored toward an individual child and his or her developmental needs.
"We don't do ages," Snyder said. "We do developmental ages because each child develops at a different rate."
At age 6 months, or as soon as a child can wave goodbye, Snyder begins teaching sign language. She also uses baby yoga and massage to help connect brain neurons at that early stage.
Once the child starts trying to speak, the sign language is phased out and Snyder and her teachers focus on various languages, which not only include English, but, later on, Spanish and French. While no child becomes fluent in the foreign languages, Snyder said research had shown that younger minds learned languages better, which helped them in school later.
In addition to the academic classes, Snyder's daycare offers enrichment classes such as dance, tumbling, piano and technology.
"It's all important," Snyder said. "It's an early start on what they're going to be exposed to once they leave here and head to school."
Preparing children for their future is an important part of Snyder's curriculum. From using cafeteria tables at lunch to moving from classroom to classroom throughout the day, Snyder said she wanted her students adjusted and ready once they started school.
Overall, Snyder's goal is to find a healthy balance between the academic side to learning and the play side to learning.
"We want to develop their minds, yes, but there is a big part of their learning that comes from play," Snyder said.
Snyder's background includes 23 years working with young children. She started with an at-home daycare and moved on to a consulting job. This took her into the homes of families to give advice about learning and playing at an early age. That position transitioned into a director position at a corporate center.
The program accepts children who are four weeks to school age. While Snyder eventually has plans to begin a program for school-aged children, she is working now on filling up her current program.
For more information, call Snyder at (913) 721-3355.