Army officers pay visit to
THS

classes, talk with students
It would be dangerous for the next president to suddenly pull out U.S. forces from Iraq - at least that's the consensus of a group of Fort Leavenworth personnel who paid a visit to Tonganoxie High School.
Students from Andy Gilner's American government class and John Barnes' American history class took part in 50-minute presentations Friday regarding U.S. military involvement in Iraq and Afghanistan.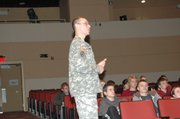 This was the second consecutive year Gilner and Barnes invited Tim O'Hagan, assistant professor at the U.S. Army Command and General Staff College in Fort Leavenworth, to speak at the THS Performing Arts Center.
O'Hagan brought five U.S. Army majors with him: Deb Mackay, Stan Wiechnik, Mick Kramer, Rick Bailes and Michael Douglas. They all spoke during the presentation and answered questions from the students.
A popular question asked was how much the next United States president would affect America's involvement in Iraq.
The majority of the soldiers' personal responses was that it would be dangerous to suddenly pull out U.S. forces.
"My personal opinion is I hope it doesn't (change U.S. involvement in Iraq)," O'Hagan said. "I think if we do, then we're going to create a vacuum. But (the Army) won't have a say. We do what we're told to do."
The Army majors spoke during each class period of the day.
"I have kids and I understand that they get a somewhat limited perspective of what's really going on," O'Hagan said. "I wanted to bring some folks that have been (overseas) and give a perspective that maybe the students here haven't seen and allow them the opportunity to ask questions."
O'Hagan added that he was impressed with the students' questions.
"Their understanding of current events was very apparent to me watching and listening," O'Hagan said. "They knew what was going on."
Senior Ryan Stockman, a student in Gilner's government class, has attended the presentation this year and last year. He said the presentations taught him a lot he didn't know before attending.
"I think it's a great idea," Stockman said of the Army majors presenting. "It gives us an opportunity, as citizens, to be informed. I got a better understanding of our purpose of helping the people out in Iraq."
Mackay said she primarily wanted to hear what the students would say because she hadn't talked to many groups before Friday.
"It's motivating for me to think about why I do what I do," Mackay said. "I wanted to let them know that I'm proud to serve them.
"America may have a lot of wrongs, but it's still America and I'm thankful that I'm here. I'm OK with the difference of opinions. But at the end of the day, I still put my head on my pillow and I'm an American."