County eyes luring Sampler Festival
Two-day event could bring thousands to Leavenworth in 2010, 2011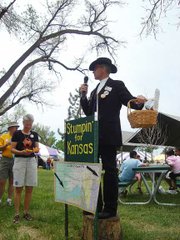 If a meeting Thursday between a dozen government, civic and business leaders throughout Leavenworth County was any indication, communities soon might collaborate in trying to bring an annual festival that celebrates everything Kansas to the area.
A push to bring the Kansas Sampler Festival to Leavenworth's Ray Miller Park in 2010 and 2011 has been spearheaded by Keyta Kelly, Leavenworth County counselor-at-large, and Bob Topping, a board member of the Leavenworth Convention and Visitors Bureau.
Kelly said, with a greater population to draw from in northeast Kansas and with 2011 being Kansas' sesquicentennial, "We feel we could double attendance over a two-day period."
The Kansas Sampler Festival brought more than 8,000 visitors to Garden City last May.
Topping, who manned a Leavenworth booth in Garden City in 2007 and has been to several Sampler Festivals since they began near Hutchinson in the early 1990s, said the event features various exhibitors who promote Kansas-made products. Last year's festival included a wine-tasting tent, historical performances and local bands.
"It's meant to educate Kansans on what there is to see, do, hear, and taste : in Kansas," he explained.
Criteria for submitting a bid for the festival due in mid-March include 250 volunteers, 300 hotel rooms within a 20-minute drive and 800 parking spaces, all of which Kelly said could be met.
Comm-issioner Clyde Graeber called the festival "a tremendous opportunity to bring people into Leavenworth County."
"It's a grand time to have that 150th year anniversary here," he said. "It would be a real event that Leavenworth would remember."
Commissioner J.C. Tellefson said the real issue is how to fund the endeavor, which, he noted, has always been sponsored by a host city in the past,
He envisioned a funding scheme for an independent Sampler Festival committee similar to what is used to fund the Leavenworth County Development Corp. and, more recently, has been proposed for a countywide airport justification study.
The formula draws from LCDC, the county, Leavenworth, Lansing, Basehor and Tonganoxie with the county still footing the majority of the bill.
Topping roughly estimated a $100,000 expenditure would be needed but added that the festival had never before been run in a purely business-like fashion, with a hired director and itemized expenditures.
Kelly predicted a $20,000 to $30,000 profit in admission, tent and vendor rentals based on previous years and said that figure didn't include sales tax generated by visitors and any long-term impact on the economy.
"When you get 10,000 people to your community for one weekend, some of them are going to come back, and some of them are going to talk about it to other people," she said, "And that's the whole idea, to get our community in the spotlight and hopefully bring back tourist dollars into our community."
Everyone who spoke at Thursday's meeting, voiced some level of support for the concept.
"It's a good event, and I think we can support it," Leavenworth City Manager Scott Miller said, but added, "I'm a little concerned about what the cost will be realistically."
He said two expenditures in particular a director's salary and the cost of electricity could significantly increase the price of the festival.
Kelly replied that she hoped a sampler committee would be able to procure corporate sponsorships for the event.
Blake Waters, with the Tonganoxie Chamber of Commerce, said the prospect of a 2010-2011 Sampler Festival in Leavenworth excited him as someone who was "somewhat involved" in Garden City last year.
"I don't think this is anything but a big positive for Leavenworth County," he said.
Lansing Mayor Kenneth Bernard said his city has had a booth in the festival for the past four years.
He noted the first weekend in May is also Lansing DAZE, so visitors would have barbecue right down the street.
"We're all in favor," Bernard quipped. "Let's go."
Tellefson said the county would "start the ball rolling" but would ask communities and organizations "very quickly" for support.
He encouraged everyone to attend this year's Sampler Festival, scheduled for May 3 and 4 in Concordia.
Other host cities have included Inman, Pratt, Ottawa, Independence and Newton.