Freshman hunts with pride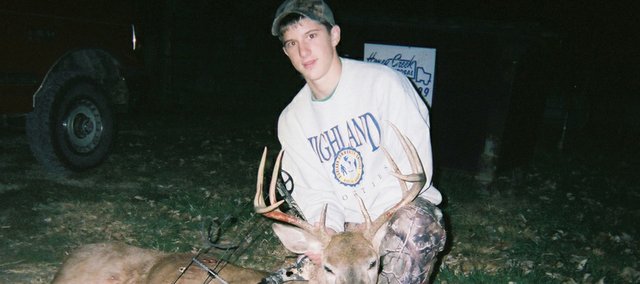 Ethan Lorance knew his stepfather and stepbrother were joking when they talked trash about his capabilities as a hunter.
Still, Lorance had to respond. Thanks to his skills as a hunter, Lorance's response came to him rather quickly.
"There's always trash talking in the house," said Lorance, a 15-year-old freshman at Tonganoxie High. "I feel like I'm still ahead in the trash talking. I'm the only one in the house that's shot a buck. They started talking about how I can't shoot. They were just messing with me. I just said, 'O.K., why don't you shoot a buck? Then, you can start talking.'"
Lorance got a leg up on his stepfather, T.J. Burgess, and his stepbrother, Jordan Burgess, on Nov. 17 of last year. The three went hunting in McLouth, but only one - Lorance - left with a successful shot.
Lorance shot a 10-point buck, while T.J. and Jordan came up empty.
The THS freshman shot the buck with a bow, as opposed to a rifle. Rifle hunters have the capability to shoot game accurately from ranges of around 200 yards. Bow hunters, or archers, will typically restrict their range to 45 yards or fewer.
Lorance, who has only been hunting for two years, said he wanted more of a challenge on his most recent hunt, so he switched from rifle hunting to bow hunting.
He was 35 yards away from the buck when he took his shot.
"It's a harder shot," Lorance said of bow hunting. "You have to get him in closer. Also, it was getting hard to see. I saw him the first time at about 5 (p.m.) and ended up shooting him at about 5:20 (p.m.). It was getting a little dark."
Lorance's bow has a 29-inch draw and is 32 inches long. The buck ran for about 60 yards after Lorance took the shot.
McLouth proved to be an effective location for Lorance. He shot the buck near one of T.J.'s friends houses, close to 16-Highway, on open land.
Lorance said he enjoyed hunting in a quiet atmosphere of open land, as opposed to a state park.
"The deer are less pressured," Lorance said. "They're a lot calmer. You don't have as many people walking by. There's not as much scent in the woods."
Lorance took the 10-point buck to Cabela's in the Village West shopping district. The buck scored a 127 5/8 inches in the Cabela's Big Buck Contest. Lorance finished in the Top 5, according to Cabela's promotions coordinator Jimmy Lopez.
James Livingston won the contest, scoring a 238 5/8.
Lorance has a history of success in Cabela's competitions. Lorance won the rifle youth hunt last year with the 12-point buck he shot. The buck scored a 171 in the competition.
The 12-point buck received a shoulder mount and is displayed on the wall of Lorance's basement. He said the 10-point buck would get a European mount, which would display the buck's skull and antlers.
In only two years of hunting, Lorance has found immediate success. His favorite part?
"Just being out in the woods by myself and having independent time," he said. "I like to be out there as much as possible. Pretty much every weekend and any time I could get out and practice in my free time. I'm hoping to do this as long as I can."