Lion's den unkind
THS

drops dual against rival Lansing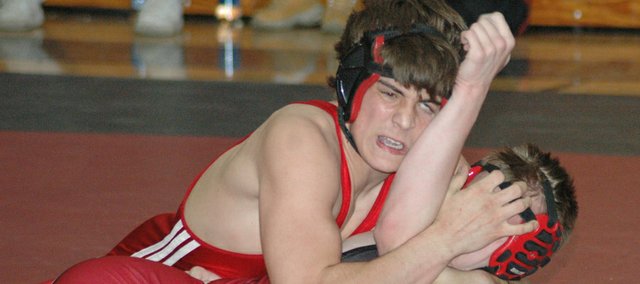 Lansing — The Tonganoxie High wrestling team was looking to make a statement in Kaw Valley League competition Thursday night at the Lansing High gymnasium.
Unfortunately for the Chieftains, their mission to upset the rival Lions fell short when they lost, 48-30, in the dual.
Not exactly what THS sophomore Zach Kaighin, who wrestles in the 189-pound weight class, was expecting.
"We could have done better," Kaighin said. "You can say you did your best, but when you don't go out there and annihilate the other team, you know you really didn't do as well as you're capable. We wanted to embarrass them, basically. It kind of went the other way."
THS had some familiar names score six points each in the dual against Lansing: Kaighin (pin), Matt Brock (130, won on open forfeit) and Cameron Adcox (285, pin). The Chieftains also had pleasant surprises, such as freshman Jeremy Elliot (152) and junior Jon Harris (135) scoring pins.
Elliot saw his first varsity action of the season because of an ear injury that kept junior Steve Davis (21-10) out of action. Elliot pinned his opponent, Cory Andrews, in 3:19.
"I wasn't surprised," THS coach Jeremy Goebel said of Elliot's performance. "He has to wrestle (senior) Wyatt (Coffin) and those guys every day in practice. He didn't really care who he wrestled. He didn't know (Andrews), but he just went out and wrestled, kept plugging away through the match and finally, we came out on top with the pin."
The problem for THS was when it lost, it got pinned. Of THS' seven losses, five were via pinfall. Only two losses were by decision. Lansing gained six points per pin (30 overall), and three points per decision.
"Going into the dual, we preached that we couldn't get pinned," Goebel said. "That didn't happen. If we just get beat by points, we have a chance to win the dual. We had to stay off our back."
Perhaps the most surprising match of the dual was THS senior Travis Adcox (140) against Lansing's Tyler Terron. If this match foreshadowed anything about Terron's future, it's bright. Terron, only a freshman, won in an 11-7 decision that had the LHS wrestlers going crazy from the sidelines.
That's because the experienced Adcox, who was ranked at 140 pounds for much of the year in Class 4A, was 30-6 entering the match.
On the plus side for THS, it dominated Bonner Springs, 61-4, in its dual before facing Lansing. It was evident the Braves were simply outmatched by the Chieftains.
Take senior A.J. DeMaranville, for instance, who pinned his opponent at 215 pounds in six seconds. The pin tied a THS record, previously set by Harris last season.
"I could tell he was new - really new," DeMaranville said. "I was just going to pin him as fast as I could. He just turned over, so it worked out that way. I didn't even think it was that fast. Everyone was just like, 'Dude, six seconds!' I just thought, 'Wow.'"
Of the dual's 14 matches, THS scored pins in six of them. The Chieftains picked up 12 more freebie points from open weight classes.
Tonganoxie will see the same gymnasium Saturday when it participates in the Kaw Valley League meet, which starts at 9 a.m. The meet has no impact on the Class 4A state meet on Feb. 22-23 in Salina. The Feb. 15-16 regional meet at Perry-Lecompton will determine whom THS will send to the state meet the next weekend.
"We have to get back in the practice room and get everyone's thoughts together," Goebel said. "We need to finish the last couple weeks of the season. It's not how you start. It's how you finish. We have to finish. We have to get our focus back. But we can't let something like this ruin our year."
Thursday's dual scores:
Dual 1: Lansing 61, Bonner Springs 9
Dual 2: Tonganoxie 61, Bonner Springs 4
Dual 3: Lansing 48, Tonganoxie 30
Below is a list of how each THS wrestler did in the dual matches. The wrestler's season record follows in parenthesis.
103 Jeff Ross: 1-1 (23-14)
119 Kevin Hamm: 1-1 (22-12)
125 Wally Rachford: 1-1 (13-10)
130 Matt Brock: 2-0 (26-4)
135 Jon Harris: 2-0 (11-20)
140 Travis Adcox: 1-1 (30-7)
145 Matt Ditty: 1-1 (19-17)
145, 152 Wyatt Coffin: 1-1 (20-13)
152, 160 Jeremy Elliot: 2-0 (15-9)
171 Jeremie Maus: 1-1 (21-14)
189 Zach Kaighin: 2-0 (24-12)
215 A.J. DeMaranville: 1-1 (17-17)
285 Cameron Adcox: 2-0 (25-8)