MHS

disptches rivals to win berth at state
The McLouth High School scholars bowl team finally knocked off its nearby rival.
In the process, the Bulldogs buzzed their way to the Class 3A state tournament, which will be Saturday at Rock Creek High School near Manhattan.
MHS finished second at a 16-team regional Saturday.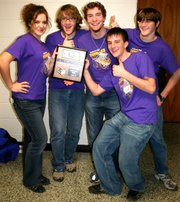 On five or six occasions this year, team member Martin Lucas said archrival Oskaloosa had defeated McLouth by one question.
Saturday, McLouth returned the favor.
"And we turned around and we beat them by the one question," Lucas said. "I guess it's karma. Whatever you want to call it.
"And to do it at regionals when it really counted was special."
Lucas, who is a senior, thought the state berth is only the second in school history. The Bulldogs did advance to state a few years ago when Mark Smelser, the older brother of current senior team member Grant Smelser, qualified for the event.
Scholars bowl competitions consist of head-to-head contests in which 16 questions are posed in these categories: Language arts, social sciences, math, science and current events.
The four-member teams may converse when questions are posed, but once a team member buzzes in with a response, conversing must end.
Other varsity team members include fellow seniors Sarah Woodhead and Philipp Nowlan. Alternate Steven Nowlan also is a senior.
Lucas excels with social science and language arts questions, while Woodhead's specialties are current events, literature and fine arts. Smelser is the math specialist, while Wnuck excels in the world language category.
Wnuck is a foreign exchange student from Germany, which is a plus for McLouth, Lucas said.
"He's quite proficient in German and very, very good in his English," Lucas noted. "It's a very big leg up on the competition."
The team averages one to two practices a week, although Lucas said the team likely would practice daily leading up to Saturday's competition.
This season, the squad has yet to finish first in a tournament, although the squad has finished in the top four in some of its meets. At the Oskaloosa tournament, McLouth was holding onto first place late in the competition, but a one-question loss to Oskaloosa knocked McLouth of contention and the Bulldogs finished fifth.
Those results are behind the team at his point. Now, Lucas said, the Bulldogs are looking forward to state at Rock Creek.
"It was wonderful," Lucas said about regionals. "I don't think we were necessarily picked to be a strong, competitive group going into regionals and to walk out with a second-place plaque against some good schools.
MHS competed in January at the Highland Community College quiz bowl challenge and finished 11th out of 24 teams. McLouth competed against much-larger schools at the event. For instance, Topeka schools participated in the HCC competition.
Junior varsity team members are Cassandra Buckley, Brooke Carter, Ryan Case, Kayla Harwood, Brad Kabus, Ashlee McClelland, Leighann Morlan, Jonathon Powell and Jessica Wayman.
MHS instructor Sara Booth is the McLouth coach.