Residents urged to 'go green,' recycle more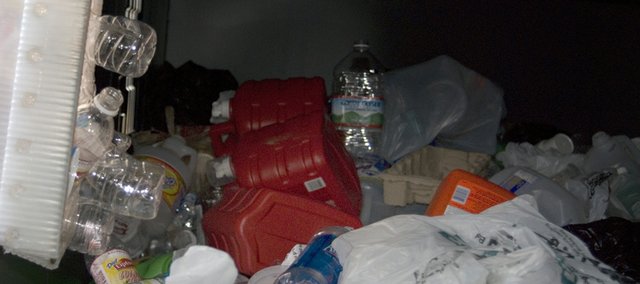 A city official says there's an easy answer for residents upset when trash haulers don't pick up garbage left outside the blue, 95-gallon containers provided by Honey Creek Disposal.
Go green.
It's been nearly a month since Honey Creek Disposal took over trash service for Tonganoxie.
While some people are happy with the blue trash cart service, Kathy Bard, assistant city administrator, said she has received calls from people upset that Honey Creek will not pick up the garbage that doesn't fit inside Honey Creek's blue carts. Instead of paying an extra $3 a month for an extra cart, Bard wants to encourage people to think a little greener and start recycling.
"If people would start recycling and get accustomed to that, then their normal weekly trash would be reduced substantially just by the recycling alone," Bard said. "Plus it saves the environment."
To make it easier on Tonganoxie residents, Kevin Weldon, owner of Honey Creek Disposal, installed a recycling drop-off center in the parking lot of Triple Creek Realty, 230 West Street (U.S. Highway 24-40).
The 24-hour center will accept numbers 17 plastics, cardboard, chip board and aluminum cans. He hopes the convenience of a recycling center open 7 days a week a will encourage people to start recycling.
"The Midwest is kind of lax in the recycling game," Weldon said. "It's going to take some time for people to get used to it, but it will make more room in their carts and have them do the green thing."
He said proceeds from recycling aluminum cans at the center goes to local Boy Scout troops. The drop-off center does not take steel cans, glass or newspaper and magazines.
Weldon said he didn't want his recycling center to take away from the money the Tonganoxie School District makes from the Abitibi Paper Retriever Community Recycling Program, which accepts newspapers, magazines and office paper.
The recycling center is meant for residents in the city. So for those who live outside of the city or for those who want extra help sorting their recycling or carrying the materials to the bins, the SORT, Organizing and Recycling program still will be operating from 8:30 a.m. to 10:30 a.m. on the second Saturday of each month at the Leavenworth County Fairgrounds.
Besides the full-service help, the once-a-month recycling program recycles everything Honey Creek Disposal does, plus it also recycles steel cans and glass.
Earleta Morey, head of the SORT program, said she liked the opportunity Honey Creek Disposal gave Tonganoxie residents to recycle more frequently instead of storing their recycling for a whole month. But she wasn't sure how that might affect her program.
"We are just going to go play it by ear and see how it goes," Morey said. "We still had a lot of people show up on our last SORT day. I think what we are going to do is keep it going like it has because we have volunteers scheduled through May."
She said she thought many county residents and the elderly especially would continue to come to the fairgrounds to recycle.
Although both recycling centers take the usual recyclable materials, they do not take batteries or other electronic equipment.
To recycle these items, green-minded individuals will have to look outside of the county.
"All electronics include toxic heavy metals and include other types of chemicals that if people handled on their own, could cause problems or expose them to things they shouldn't be exposed to," said Chet McLaughlin, environmental engineer for the Environmental Protection Agency. "Probably the most important argument to recycling electronics is that it makes our society much more efficient if we recycle old electronics into new electronics that we can all use an enjoy."
McLaughlin recommended going to recyclespot.org to find a local electronics recycler. Earth911.org also has a list of nearby electronic recyclers.