Chieftains deliver on Senior Night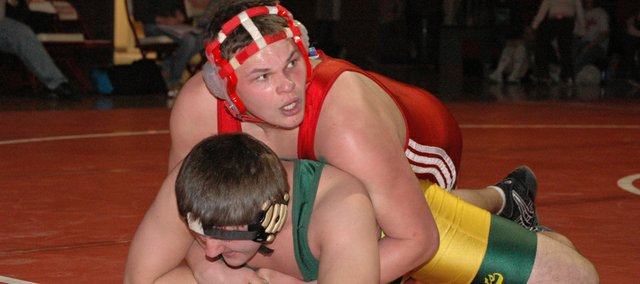 The Tonganoxie High wrestling team defeated Basehor-Linwood, 61-13, in Thursday's dual at the THS gymnasium.
After the match between the wrestlers in the 125-pound weight class, the Bobcats actually took a 13-6 lead. The Chieftains won the next 10 matches and scored 55 unanswered points on the Bobcats.
Thursday also represented Senior Night for the Chieftains. Tonganoxie had six seniors wrestle their last matches at the THS gymnasium: Wally Rachford (125), Travis Adcox (140), Matt Ditty (145), Wyatt Coffin (152), A.J. DeMaranville (215) and Cameron Adcox (289).
The seniors went a combined 5-1. The Adcox cousins, Ditty, Coffin and DeMaranville won via pinfall. Rachford lost, 12-1, in a hard-fought match against Basehor-Linwood's Joe Johnson.
"This was awesome to have a full set of stands," DeMaranville said. "It seemed like there were more people here than basketball games. It's great to know we're finally getting respect that we worked so hard for."
Added Cameron Adcox: "I'm going to miss this place a lot. This is my hometown. I've grown up here all my life. This is the last time I'm going to get to perform in front of everyone. Anybody could understand that means a lot to somebody. Just to go out there, get a pin and have the whole team win, it feels great right now."
Kevin Hamm (119) scored the other pin for the Chieftains. Jeff Ross (103) won on a 4-1 decision, Matt Brock (130) won on an 8-4 decision and Zach Kaighin (189) won on an 11-2 decision.
Thursday was especially memorable for THS coach Jeremy Goebel. Adding to the Senior Night festivities was the fact that Goebel was also celebrating his five-year wedding anniversary with his wife, Lisa.
"It's a great day," Goebel said. "It's kind of ironic that our anniversary is during wrestling season. It's something that my wife knows I love and she supports me. It's a fun way for me to enjoy my anniversary, doing something I love with the people I love, with my kids (Jace, 3, Addison, 2) and my family here watching. It's me in a nutshell: Family and wrestling."
Tonganoxie will compete in Saturday's league meet at Lansing High. The meet will start at 9 a.m.