THS

boys' comeback bid falls short at Lansing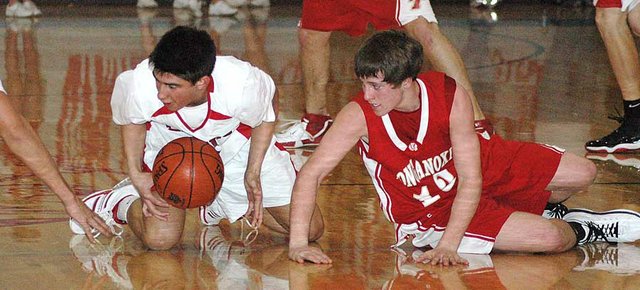 Photo Gallery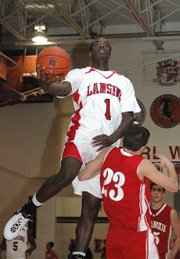 Lansing boys 49, Tonganoxie 43
Lansing — After falling behind early, the Tonganoxie boys basketball team did its darndest to spoil Lansing's Senior Night on Friday.
The Chieftains shrugged off a miserable first quarter, slowly climbed back and took a late lead before falling, 49-43, at Lansing.
The Lions (11-6) were flawless during the first eight minutes as it raced to a 14-1 lead in the first quarter. In addition to the early offense - they made six of 12 shots - they also forced five straight turnovers at the end of the quarter. In fact, the Chieftains didn't make a basket until their top player, senior Gabe Belobrajdic, scored on a lay-in at the 6:45 mark of the second quarter.
Belobrajdic did not start or play in the first quarter.
Lansing would have been wise to anticipate the impact Belobrajdic would have on the game. The Lions lost focus after building the early lead, and the Chieftains fed off Belobrajdic's presence by playing a steady game of catch-up.
Keith Wentz-Hall sank three free throws in the second quarter, and Belobrajdic scored on a put-back and a lay-up just before halftime. That whittled Lansing's lead to single digits at 21-12 by intermission.
The third quarter was all Tonganoxie. The Lions bricked missed layups, bricked six of eight free throws and threw the ball away four times. Meanwhile, the Chieftains used a pair of layups by Tyson Letourneau and a two-handed put-back dunk by Belobrajdic to pull within 30-26 by the end of the quarter.
Jeremy Carlisle swished a 17-foot jumper on Tonganoxie's first possession of the fourth quarter, and then Belobrajdic tied the game at 30-30 with a pair of free throws. Kevin Johnson answered with a three-point play for Lansing, and Bobby Hauver followed with a jump shot that gave LHS a five-point lead.
That margin wasn't safe. THS hung around a bit longer, and then Wentz-Hall buried a three-pointer from the left wing that gave the Chieftains a 41-39 lead with 3:15 to go.
After a Lansing timeout, the Lions inbounded the ball and swung it to Chris Hill at the top of the key. The senior fired, buried it and gave his team a one-point lead with 2:50 left. Curtis Beall sank one of two free throws on Lansing's next possession, and then Hill fed Cody Rush for a layup that sealed the victory.
Tonganoxie (5-11) was led in scoring by Belobrajdic with 14 points. Wentz-Hall scored 10, Letourneau had eight, Carlisle had seven, and Austin Smith and Jamie Everett chipped in two apiece.
Rush led Lansing with 14 points, Johnson had nine, Beall scored eight, Hauver had seven, Clayton Hall had four, Hill had three, and P.J. Sigle and Stephen Didde added two apiece.