Tonganoxie girls rally past Lansing
Photo Gallery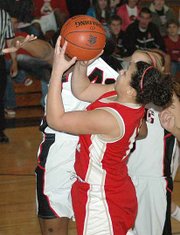 Tonganoxie girls 52, Lansing 47
Lansing — The Tonganoxie High girls basketball team has now won 10 games in a row after a 52-47 road victory at Lansing on Friday night.
The Chieftains (14-2) have won six straight Kaw Valley League games during the span.
Lansing (11-6) made just nine of 18 free throws on Friday, and Tonganoxie went 18-for-25 from the stripe. THS finished with a 48-43 rebounding advantage despite LHS dominating the glass for the first 10 minutes.
The Chieftains scored the first four points of the game on layups by Tracie Hileman and Chrissie Jeannin, but Lansing quickly tied the game on a pair of buckets by Katie Nietzke.
THS scored its next five points at the free throw line and took a 9-8 lead with 2:30 left in the first quarter, but Lansing took control shortly thereafter.
The Lions attacked the basket, played scrappy defense and limited the Chieftains to no more than one shot on each of their possessions during the next four and a half minutes. The Lions went on a 12-0 run during that span and built a 20-9 lead. They attempted just two three-pointers during that run, and they received two layups from Amy Briggs and another from Nietzke. The only glitch was a four-for-eight performance at the free throw line.
Trailing by 11, Tonganoxie called timeout with 6:01 left in the first half. After the pause, the Chieftains began attacking the basket. They scored on four layups and two baseline jumpers, as well as a put-back and some free throws. Meanwhile, Lansing stopped working the ball instead and fired five three-point attempts instead. THS closed the half on an 18-6 run and took a 27-26 lead.
"You've got to be a little smarter than that," Andrews said of his team's shot selection. "You've got to think, 'Hey, we were successful in the first (quarter) going in front of the rim. Why don't we keep doing that?' When we attack the rim, we're much better."
Liz Baska scored on a pair of layups and Jeannin added a layup during a 6-0 Chieftain run to start the second half. The Lions answered with a runner in the lane by Nietzke and a lay-in by Ellis. Later, a three-pointer by Briggs brought the Lions within 35-33, but the Chieftains answered with rebounds and points.
"They (the Chieftains) do a nice job of boxing out on the boards," Andrews said. "We've just gotta be even more aggressive."
THS led 40-35 entering the fourth quarter, and used a three-point play by Jeannin to take its largest lead at eight points.
Lansing returned to attacking the rim, and slowly clawed back to within two points at 49-47, but it was too late. A free throw by Baska gave THS a three-point lead with 23 seconds left. Nietzke got a good look at a three-pointer from the left corner on Lansing's ensuing possession, but it fell short and Baska iced the game with two free throws.
Jeannin led THS with 13 points, Baska had 11, Shannon Carlin and Veronica Grizzle had nine apiece, Christy Weller scored six and Hileman added four.
Carlin had nine rebounds, Hileman had eight and Baska had six.
Briggs led Lansing with 14 points, Nietzke had 13, Ellis had eight, Morgan Chiles had four, Amanda Darrow and Brittney Lang had three apiece and Christine Cordes had two.
Ellis and Lang had nine rebounds apiece, and Darrow and Cordes each grabbed six. Briggs had five assists and just one turnover.