New prison would boost area's economy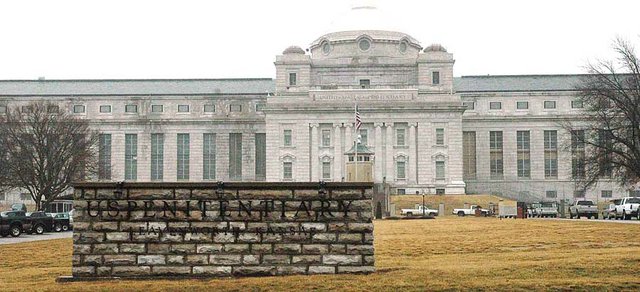 Leavenworth — Anticipated construction of a new medium-security federal prison in Leavenworth would be welcome news for the area as the economy continues to slow.
"We're talking millions and millions of dollars in expenditures, in construction," said Charlie Gregor, executive vice president for the Leavenworth-Lansing Area Chamber of Commerce. "This would be for several years, tying up almost all the local contractors with various contracts: concrete, carpenters, wood framing.
"There's so much that goes into this thing. It's not like building a big apartment house."
The project would operate alongside the existing U.S. Penitentiary at Leavenworth, the place built in the early 1900s and that for years operated as a maximum-security prison, holding the likes of George "Machine Gun" Kelly and Robert Stroud, who later would become known as the "Birdman of Alcatraz." Today, it's being used for medium-security inmates.
Project in budget
Planning for the approximately $300 million new prison already is getting a boost. In his proposed federal budget for the 2009 fiscal year, President Bush has included $1.4 million for construction planning, such as conducting research and field tests to ensure that a site near the existing prison would work. The entire process - from planning to completion - could take up to six years, according to the Federal Bureau of Prisons.
Plans call for a new prison big enough for more than 1,100 male inmates, plus 250 employees. Building in Leavenworth - where the Bureau of Prisons has about 1,500 acres of land - would allow the bureau to share costs between two prisons.
Even better, Gregor said, it would give the Leavenworth area more federal employees, which would boost security for families, contractors and businesses who have come to rely on the steadfast economic underpinnings of operations backed by the federal government.
Federal corrections officers earned a starting salary of $28,862 last year.
"These are jobs that are good-paying, solid jobs that have all the best benefits and retirement and all that," Gregor said. "We have over 400 of those now with the federal prison, and we like those."
The U.S. military already is building a new disciplinary barracks at Fort Leavenworth, which will bring another 400 military personnel to town, who will be likely candidates to stay in the area upon leaving the service, Gregor said.
"This will provide a source for talented and trained - by most standards, very, very well trained - military police to man this (new medium-security) institution," Gregor said. "Over time, I think most of the employees will be strictly local."
Widespread benefits
A new federal prison would give the Leavenworth economy and, to a lesser extent, surrounding communities a major infusion of federal funds and the spending they would spur, said Dan Rowe, a principal who leads the justice group for Lawrence-based Treanor Architects. The firm has designed jails in the region, including the Douglas County Jail in southeast Lawrence and a new $60 million addition to an adult detention center in Johnson County.
The anticipated project cost for Leavenworth - $274 million to $298 million, according to the Bureau of Prisons - doesn't include all the spending by contractors who would come to town to eat lunch, stay in hotels, buy materials and complete other transactions that would make a major project even better for the community's bottom line.
"We've seen orders of magnitude two to three times the size of the construction budget," said Rowe, who confirmed that Treanor would be interested in seeking design work on the project. "It wouldn't be unusual for this to have a major impact on the area."
Greg Nook could see why.
Nook, executive vice president for J.E. Dunn in Kansas City, Mo., said that 98 percent of the $297 million construction budget his company had for a new IRS center in Kansas City went to contractors and subcontractors.
At least 90 percent of a prison project's construction value would be expected to go to subcontractors, he said.
"It's at least that much," Nook said.
And don't forget: The federal government - whether it's the IRS, the U.S. military or the U.S. Bureau of Prisons - boasts a strong record of paying its bills, which would be no small matter in times of economic volatility.
"It is a real trustworthy credit client," Nook said.
- Lansing Current editor John Taylor contributed information for this story.