Board OKs kindergarten changes beginning with '08 -'09 classes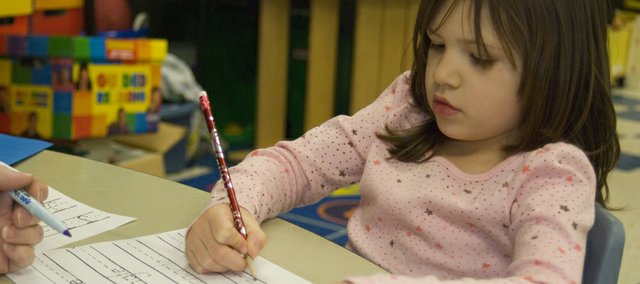 Beginning in the 2008-09 school year, Tonganoxie Elementary School kindergarten students will attend school all day, every day.
The Tonganoxie School Board approved TES principal Tammie George's request for the new kindergarten schedule, which is a change from the school's current all-day every-other-day schedule.
"Many parents verbalized their support for the change," George told the board at Monday's meeting.
George spoke at length about the proposed plan, providing examples of advantages and disadvantages for the switch.
The added classrooms will carry an estimated $14,000 each in startup costs, such as desk, chairs and class supplies.
The board, on Monday, approved no more than three new teachers, although that is contingent upon how many students plan to enroll for the next school year. Kindergarten roundup takes place in April, which will give George a better idea of how many students to expect for 2008-09.
During her presentation, George's examples of advantages to the plan included:
¢ Consistency of attendance - less transition to first grade.
¢ More time for instruction without interruption.
¢ More time for academic progress, remediation and enrichment.
¢ Most materials expect kindergarten to have a full-day program.
¢ Increased enrollment.
¢ Parents' support for the change.
¢ Ability to catch students' needs at an earlier age.
Disadvantages, George pointed out along with startup costs, were:
¢ Additional space and staff needed.
¢ Additional load for special staffs, such as music, physical education and the library.
Board member Mildred Continued from page 1A
McMillon said transportation also could be an issue. George said about half of the current kindergartners ride buses, which was roughly 30 on any given day. That could increase to 60 daily under the new system.
Another change at TES could be the elimination of Early Childhood programs because space would need to be created for additional kindergarten classrooms.
Because Tonganoxie is in a cooperative with other area districts for Early Childhood classes, students could be bused elsewhere, such as Basehor. Currently, there are 15 students attending the classes in Tonganoxie - eight are from Tonganoxie and the other seven either are from Basehor or Bonner Springs.
McMillon did not favor students being sent elsewhere. The board discussed renting space from the nearby United Methodist Church, but board member Kathy Baragary said the church did not meet state code requirements for such classes.
McMillon's other concern centered on the lack of space in light of recent renovations made at TES, as well as the new middle school alleviating space at the elementary school.
"We never guaranteed there would be additional space," George said.
After discussion, the board unanimously approved the measure.
"I'm in favor, but I still want to know where our special education program is," McMillon said.
Student recognition
In other business, the board recognized Tonganoxie Middle School students for their accomplishments in recent spelling bees.
TMS spelling bee champions were Mara Hebert (fifth), Halston Field (sixth), Paige Lauri (seventh) and Tanner Smith (eighth). All four competed at the Leavenworth County Spelling Bee, where Tanner also placed second overall. All four received trophies from the district for their efforts.
Erickson also recognized Tonganoxie High School senior Jake Bontrager for achieving a score of 35 on his ACT test; 36 is the maximum score for the test. Overall, there were five seniors and two juniors who achieved scores of 30 or higher on their ACT exams.
In addition, Erickson noted that 32 juniors achieved status in the exemplary category on the Kansas State Reading Assessment test.
Erickson also lauded the efforts of the THS debate team, which brought home first, second and third-place finishes at the state debate championships Jan. 25 and 26 in Garden City.
The board also approved 2006-07 audit report by Lowenthal, Singleton, Webb and Wilson. A representative with the firm spoke to the board about the audit. The board later approved paying the auditor's bill of $7,000.
Taxpayers duped?
Andi Schafer talked during the patron comments session. Schafer served on a committee formed by the board after Erickson discovered in November that he incorrectly submitted tax information to the county, costing taxpayers more than $300,000. The board later approved a measure scaling back the mill levy in future years to help rectify the situation.
Schafer said she received a letter the night of the committee meeting explaining the error and apologizing for the error. Schafer said the letter she received that night and another distributed at the January school board meeting were basically the same letter. However, she said responsibility for the error appeared to shift from Erickson in the second letter and included grammatical errors.
She voiced concern that taxpayers might have been "duped" because of the discrepancy.
"If this is a cover-up, voters have a right to know exactly what happened," Schafer said.
She went on to say: "What is going to be done to make sure this comedy of errors doesn't happen again?"
Board member Darlyn Hansen responded.
"I thought we had a good plan," Hansen said. "But nobody is trying to screw anybody. The thing to realize is that we're doing the best we can."
Schafer said she thought the plan to help correct the error was the best solution given the situation. Her issue, however, was with the letters.
Milk prices affecting district
In reporting on budgetary matters, Erickson said nearly $54,000 would be moved from the general fund to the food budget because of rising food costs, particularly milk. He also envisioned increasing meal prices by 20 to 30 cents for 2008-09.
"It's a tight budget this year, but I do believe it's progressing as it should with the exception of the food service program," Erickson said.
Tractor bid approved
The board approved a bid from Heritage Tractor in Baldwin for a John Deere 997 tractor. The equipment will cost $5,500 after trade-in of the school's John Deere 797 model, worth $6,500 through the trade-in. The JD 997's cost was $12,000 before trade-in.
The board selected Heritage Tractor instead of Reynolds Lawn and Leisure, Shawnee. The Shawnee business bid $16,624 for the 997 model, which included a suspension seat kit and 72-inch mower. The Heritage Tractor bid contained the suspension seat kit. Reynolds bid $16,624 for the tractor, less $8,374 for the trade-in, for a total price of $8,250.
Executive sessions
The board also met in executive session for a total of 1 hour, 40 minutes. The first meeting, which started at 9:34 p.m., was to discuss personnel matters for non-elected personnel to protect the interest of an identifiable individual. TMS principal Jill Dickerson and Erickson also were in the meeting.
After a five-minute break, the board met for another 10 minutes to discuss matters of an identifiable student with Carlisle, Smith and Erickson.
A third session went for one hour to discuss non-elected personnel with Parker joining the other administrators. Parker left at 10:18 p.m., while Carlisle and Smith left at 10:30 p.m.
At 11 p.m. the board requested what would be its final executive session for 20 minutes to discuss non-elected personnel. Erickson left the session at 11:08 p.m. and the board came into regular session at 11:20 p.m. The meeting adjourned shortly after that time.
After coming out of executive session, the board hired these assistant coaches to their respective high school sports: Mitch Loomis, baseball; Justin Seever, girls soccer; and Susan Kuzmic and Lee Matzeder, softball. The board also accepted the resignations of Shirley Welsh, TES art teacher, and kitchen aide Susan Richardson, effective at the end of the school year. The board also approved one-year contracts for all building administrators.
Special meeting set
Finally, the board set a special meeting for 6 p.m. Feb. 25 in the TMS library to discuss board policy and issue of school transportation for athletes to baseball and softball practices at the Leavenworth County Fairgrounds.
THS principal Jamie Carlisle and activities director Brandon Parker spoke in favor of eliminating the busing plan, citing a lack of efficiency with the current system and the potential for earlier practice start times if it is eliminated. Board president Leana Leslie wanted to speak further with the district's Kansas Association of School Board attorney Donna Whiteman about the situation.