Bummed by bronze
THS

not satisfied with best finish in six years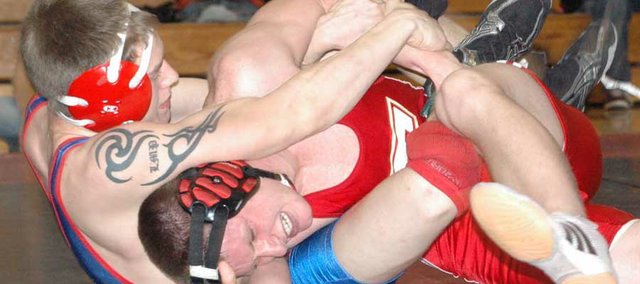 Lansing — The Tonganoxie High wrestling team has made so much progress that even after a six-year turnaround on Saturday, the Chieftains weren't fully satisfied.
Tonganoxie finished in third place out of nine teams in Saturday's Kaw Valley League Wrestling Championships at Lansing High School.
The third-place finish is the highest the Chieftains have finished in coach Jeremy Goebel's six years of coaching the program. Last year, THS finished fifth, which was the highest Goebel had placed at the time.
After the tournament, the Chieftains weren't focused on their highest place at league in six years. They were focused on their 155 points - just one point shy of Lansing's 156 and eight shy of league champion Santa Fe Trail's 163.
"It's hard to think we came that close and it didn't happen," senior Wyatt Coffin said. "That's all I wanted, was to be first and make history."
To Coffin's knowledge, Tonganoxie has never won a KVL championship.
The Chieftains put themselves in position to make history, though. Before the finals round, Tonganoxie was atop the leader board with 140 points. Santa Fe Trail had 136.5 and Lansing had 123.
The difference was Tonganoxie went 0-6 in first-place matches in the finals round.
"To sum it all up, we just need to finish," Goebel said. "We're three-and-a-half points ahead going into the finals. That's been our motto: Finish. All we have to do is win and everything else takes care of itself."
It was still a vast improvement from last year, when Matt Brock and Cameron Adcox were the only two Chieftains to make it into the finals.
This year, Tonganoxie had six wrestlers place second in the finals: Kevin Hamm (119), Brock (130), Travis Adcox (140), Jeremie Maus (160), Zach Kaighin (189) and Cameron Adcox (285).
Maus' performance was especially impressive, considering Saturday was the first time the sophomore stepped on the mat at the league wrestling championships.
Maus (23-15) defeated Mill Valley's Josh Vanholland (22-16) in the semifinals of the 160 bracket, but lost in the finals to Lansing junior Grant Hinckley (30-5).
"It was exhilarating, except for the finals match," Maus said. "I wish I could have won that one. But it was a pretty good day. Third isn't bad, but we definitely can do better. I have really high expectations for us."
This was the third consecutive year Brock took second in the 130 bracket at league. Brock (29-5) lost to Santa Fe Trail senior Dustin Hill (19-7) in the finals.
Cameron Adcox (28-9) won the 285 bracket last year. The THS senior lost to Perry-Lecompton senior Alex Hackathorn in this year's finals. Hackathorn left the meet sporting a 31-3 record.
Tonganoxie went 3-1 on the back side in the third and fourth-place matches.
Jeff Ross (103), Coffin (152) and Steve Davis (171) won their third-place matches, while Matt Ditty (145) took fourth.
"Hopefully, we can get everything going for next week because that's when it counts," Goebel said of Friday and Saturday's regional meet at Perry-Lecompton.
The top four wrestlers from each weight class from the regional tournament will advance to the Feb. 22-23 Class 4A state tournament at the Salina Bicentennial Center.
The following is a list of how each wrestler fared at the league championships. His season record follows in parenthesis:
103 Jeff Ross: 3-1 (26-16)
119 Kevin Hamm: 2-1 (25-13)
125 Wally Rachford: 0-2 (4-9)
130 Matt Brock: 2-1 (29-5)
135 Jon Harris: 1-2 (13-22)
140 Travis Adcox: 1-1 (32-8)
145 Matt Ditty: 2-2 (22-19)
152 Wyatt Coffin: 3-1 (24-14)
160 Jeremie Maus: 1-1 (23-15)
171 Steve Davis: 2-1 (24-11)
189 Zach Kaighin: 2-1 (27-13)
215 A.J. DeMaranville: 0-2 (18-19)
285 Cameron Adcox: 2-1 (28-9)
Team results
1. Santa Fe Trail, 163
2. Lansing, 156
3. Tonganoxie, 155
4. Mill Valley, 121.50
5. Perry-Lecompton, 65.50
T6. Piper, 53
T6. Bishop Ward, 53
8. Basehor-Linwood, 45
9. Bonner Springs, 42