Chieftains extend win streak to 10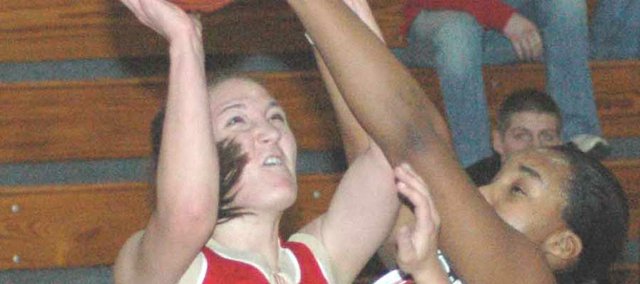 Lansing — The Tonganoxie High girls basketball team has now won 10 games in a row after a 52-47 road victory at Lansing on Friday night.
The Chieftains (14-2) have won six straight Kaw Valley League games during the span.
"It was one of those games you mark on the calendar," Tonganoxie coach Randy Kraft said of Lansing. "We beat them at home (Dec. 13), but that didn't mean much. Going up there is a tough place to play."
Lansing (11-6) made just nine of 18 free throws on Friday, and Tonganoxie went 18-for-25 from the stripe. THS finished with a 48-43 rebounding advantage despite LHS dominating the glass for the first 10 minutes.
The Lions went on a 12-0 run and built a 20-9 lead with 6:01 remaining in the first half.
Trailing by 11, Kraft called timeout. After the pause, the Chieftains began attacking the basket. They scored on four layups and two baseline jumpers, as well as a put-back and some free throws.
Meanwhile, Lansing stopped working the ball and fired five three-point attempts instead. THS closed the half on an 18-6 run of its own and took a 27-26 lead into intermission.
"Early on, we were rushing things," Kraft said. "I told the kids, 'You can't make it all back in one shot. Take each possession one possession at a time.' We probably upped our defense and put more pressure on the ball, too."
Senior guard/forward Liz Baska scored on a pair of layups and junior point guard Chrissie Jeannin added a layup during a 6-0 Chieftain run to start the second half.
THS led, 40-35, entering the fourth quarter, and used a three-point play by Jeannin to take its largest lead at eight.
Lansing returned to attacking the rim, and slowly clawed back to within two points at 49-47, but it was too late. A free throw by Baska gave THS a three-point lead with 23 seconds left.
Lansing's Katie Nietzke got a good look at a three-pointer from the left corner on the Lions' ensuing possession, but it fell short. Baska iced the game with two more free throws.
"The kids have a lot of confidence in her late in the games," Kraft said of Baska. "She has come through big at the free throw line."
Jeannin led THS with 13 points, Baska had 11, Shannon Carlin and Ronnie Grizzle had nine apiece, Christy Weller scored six and Tracie Hileman added four.
Carlin had nine rebounds, Hileman had eight and Baska had six.
Kraft said he didn't realize the Chieftains had won six KVL games in a row.
"I just know we have four more," he said.
Staff writer Eric Sorrentino contributed to this story.