Mock game pays off for Chieftains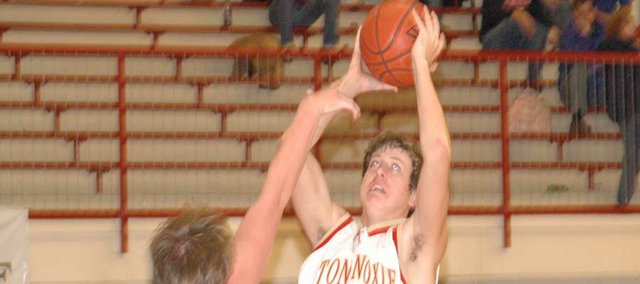 With 10 days separating the last time the Tonganoxie High boys basketball team took the court, coach David Walker thought he'd mix it up a bit.
"We tried something - maybe it worked, maybe it didn't - but (Jan. 1) before practice, we actually played a game," Walker said. "We had the tables set up, the clock going and tried to mock a game as much as we could so we could get back into that rhythm of playing games. We usually don't have that much time off."
If the outcome of the most recent home game against Santa Fe Trail was any indication of the practice game's effectiveness, it proved to pay off.
Tonganoxie defeated Santa Fe Trail, 61-43, on Jan. 5 in the THS gymnasium.
The Chieftains improved to 5-10, while the Chargers dropped to 2-14.
"I thought our guards really took care of the ball in the open floor and made good decisions," Walker said. "Timing was really good. We had post people running the floor and the guards weren't giving it up too soon or too late."
Senior Gabe Belobrajdic and junior Austin Smith were the primary benefactors of the THS transition points. Belobrajdic led the team with 11 points, while Smith added 10 off the bench.
"We try to take those high-percentage shots and be efficient on offense," Walker said. "When we do that, then our guards can get in rhythm."
Tonganoxie led, 14-10, after the first quarter, then blew the game open in the second quarter with a 17-point effort. The Chieftains held the Chargers to only eight points in the period and took a 31-18 advantage into halftime.
Defensively, Tonganoxie didn't press as much as it has in the past. Walker said it was because of the Chargers' spread offense.
"We knew that if we were to get in a position to overplay, we'd give up some easy ones and we didn't want to do that," Walker said. "We had to put a lot of pressure on the ball. We knew we were going to be playing hard in the halfcourt and didn't want to wear down too easily, so we didn't extend it too far."
Scoring by quarter
Tonganoxie 14 17 13 17 - 61
Santa Fe Trail 10 8 9 16 - 43