Project Graduation bingo fundraiser draws committee closer to its goal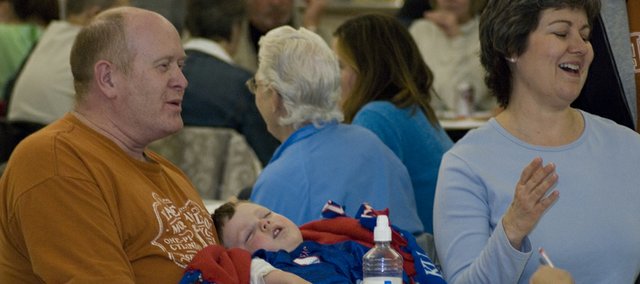 Tonganoxie High School seniors are $4,500 closer toward their goal for a big post-graduation party, thanks to the more than 300 people who attended Saturday's Project Graduation bingo.
"This is a very popular event," said Jackie Brown, who is on the Project Graduation committee and who coordinated the fundraiser at Tonganoxie Middle School. "It's an event that people always look forward to."
The bingo cage rattled while the 35 THS senior volunteers traversed the bingo tables. They took care of the players by bringing food and drink, delivering the lucky winning bingo cards to the judge and delivering prizes back to the winning players.
"It's for after grad, so of course we like it," Michelle Lindsay said. "We are all benefiting from this."
While there were many winners that night, not everyone made it out with prizes.
THS Principal Jamie Carlisle wasn't able to share in some of the luck that some of the other people at his table had.
"I didn't carry my weight with winning," Carlisle said. "I didn't practice before I got there."
Carlisle joked that he would be revving up his training schedule to three bingo practices a day instead of three a week in preparation for next year's event.
At $14,000, the Project Graduation committee is only $6,000 shy of reaching the $20,000 mark.
"We are doing real well," Brown said. "We are well on our way of meeting or goal."
In March, seniors will be selling trash bags to raise money and in April the group will be sponsoring a basketball game that will pit THS basketball alumni with the current THS teams.
Other fundraisers have included a golf tournament and the sale of Otis Spunkmeyer cookies during basketball games.
The after graduation party, which will be at the Riverfront Community Center in Leavenworth, will have areas for students to swim, play racquetball and win prizes.