THS

grad hopes to add to

KCKCC

's dynasty in debate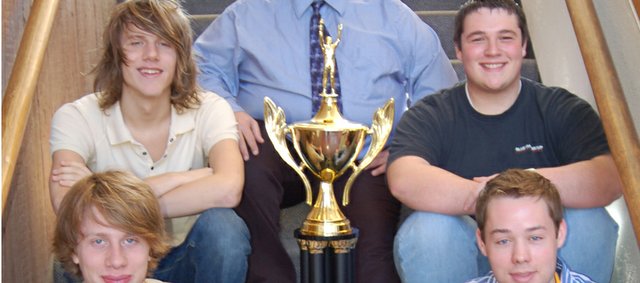 It may sound like a stretch, but Noah Fugate has found a scholastic purpose for listening to rappers Tech N9ne and Twista.
Fugate is a member of the Kansas City Kansas Community College debate team, which is ranked No. 1 in the nation by the Cross Examination Debate Association community college rankings.
To maintain his school's elite status, words have to come to Fugate at a quick pace.
"I listen to rap music for speed drills," said Fugate, a freshman at KCKCC and a 2007 Tonganoxie High graduate. "When I'm driving to school, I put that on and try to rap with them as fast as possible. I can keep up with them a little bit."
Think of KCKCC as a dynasty for community colleges in debate. The Blue Devils have won the national debate tournament for the past four years. Expectations this season are no different.
"We call this year the drive for five," Fugate said.
Adding to the fun is that nearby Johnson County Community College is No. 2 in the nation on the CEDA community college rankings. Fugate refused to add fuel to the rivalry's fire.
"Johnson County has a really good team," Fugate said. "They're our biggest rival, but it's all in good fun."
As a member of the debate team, Fugate has traveled the country. He's debated in eight tournaments this year, at venues such as Georgia State, Vanderbilt, Southern California and Augustana College (Ill.).
There was one drawback to touring the country, though.
"We drive to every meet," Fugate said. "We never fly. That Southern California trip was like a 36-hour drive -one way."
Fugate has placed as high as third (Augustana, Emporia State) with debate partner Chris Rohan, a Lansing High School graduate. Fugate was also debate partners with Austin Montee earlier in the year.
KCKCC has 10 members on its debate team. Fugate is preparing for the National Junior Division Debate Tournament, which will be March 15-17 at Johnson County Community College.
As a freshman, Fugate debates at the JV level. The open level is the highest level of debate.
KCKCC's open team of Rohan and Andy Montee is hoping to qualify for the National Debate Tournament, set for March 27-31 at California State University at Fullerton.
A Chieftain influence
A year ago, when Fugate was a senior at THS, he played basketball at Chieftain Park one day with THS graduate John Bretthauer.
Bretthauer, who debated for Tonganoxie and won national titles with KCKCC, spoke to Fugate about debating for the Blue Devils.
"I ended up going to KCK because of the conversations I had with him," Fugate said. "We talked about everything. We got on the subject of debate, and he talked about the collegiate level and how many titles KCK has won. I had also heard some good things about (KCKCC debate coach) Darren Elliot."
After his two years at KCKCC, Fugate said he was unsure of his next stop. He's highly considering Emporia State.
"I'd like to debate for them," Fugate said of the Hornets. "I'm going to go into teaching and be a math teacher at the high school level. I'm looking at education for my major and math for my minor."
For now, Fugate is focused on school at KCKCC and debate.
"We want to build clout around our name so if a team like Harvard sees they will debate KCKCC, they won't just see us as a puny community college," he said.