'

Amanda's Law' passes in House, moves to Senate
117-5 vote on one year anniversary of accident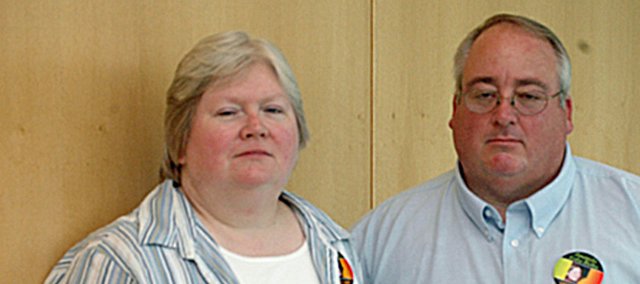 On the one-year anniversary of the traffic death of a Tonganoxie teenager, the Kansas House approved a bill to increase drug tests at major wrecks.
House Bill 2617 was sent to the Senate on a 117-5 vote.
The proposal was prompted by the death of Amanda Bixby, who was killed Feb. 14, 2007, on U.S. Highway 24-40 just west of Basehor in a collision caused when a vehicle driven by Ricardo Flores ran a stop sign.
Flores eventually pleaded no contest to failure to yield at a stop sign, speeding and driving without a valid license. He was fined and placed on six months' probation.
Amanda's parents, Dennis and Denise Bixby, of Tonganoxie, said Flores should have been tested for drugs.
When the Bixbys heard about the House action on Thursday they said they were pleased. They had lobbied for the bill with the help of state Rep. Kenny Wilk, R-Lansing, and state Sen. Roger Pine, R-Lawrence.
Dennis Bixby said he and his wife were planning to visit Amanda's grave on Valentine's Day.
"Denise and I were kind of looking forward to a quiet evening and replace some of the flowers and stuff like that," Dennis Bixby said.
Under current law, a drug test, which is frequently a blood sample, can be ordered only if a law officer has reasonable suspicion of drug use by the person involved in the accident. In the Bixby accident, officers didn't order a drug test for Flores.
But under the House-approved bill, if the accident results in a fatality or serious accident, the officer shall order a test.
During discussion in committee, some legislators said they were concerned that under the proposal, blood could be drawn from people even though they were not at fault and under no suspicion.
The bill later was amended so a person could refuse to allow blood to be drawn, but they could lose their driver's license, which is similar to provisions when an alcohol-breath test is ordered.
In addition, another amendment was added that says if the law officer believes the actions of the vehicle operator did not contribute to the accident, then there would be no blood test.
"I think probably the amendments allayed some of the concerns people had," House Judiciary Chairman Mike O'Neal, R-Hutchinson, said.
He said he was confident the Senate will approve the bill. "I think it will be pretty well received," he said.
O'Neal said it was just a coincidence that the House approved the measure on the one-year anniversary of Amanda Bixby's death.
- Shawn Linenberger, news editor at The Mirror newspaper in Tonganoxie, can be reached at (913) 845-2222.
-- Staff writer Scott Rothschild can be reached at (785) 354-4222.