Two
THS

grapplers already headed to state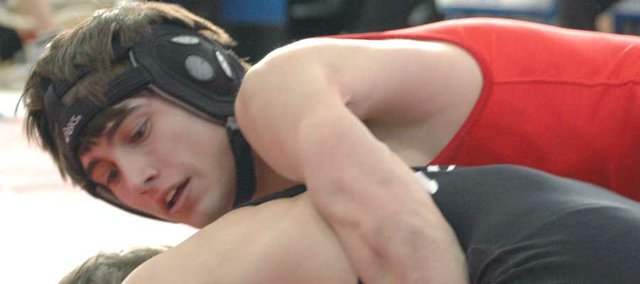 Perry — Two Tonganoxie High wrestlers advanced to the finals during regionals at Perry-Lecompton High on Friday, thereby qualifying for state.
Junior Matt Brock (130) and senior Cameron Adcox (285) are the first two Chieftains to earn their tickets, but a slew of others still have a chance to join them, depending on how they fare on Saturday.
Brock won three matches to reach the finals, while Adcox won a pair of bouts, the first coming when he scored a pinfall nine seconds into the match.
Although Jeff Ross, Kevin Hamm, Travis Adcox, Wyatt Coffin and Steve Davis all lost in the semi-finals on Friday, each of them can qualify for state by picking up a victory during Saturday's consolation rounds.
Even more THS grapplers, who didn't reach the semis, can still qualify by advancing to the finals in their respective consolation brackets.
Consolation bouts get started on Saturday at 11 a.m. and the championship finals are scheduled to begin at 6:30 p.m.