Celebrating 4-H Day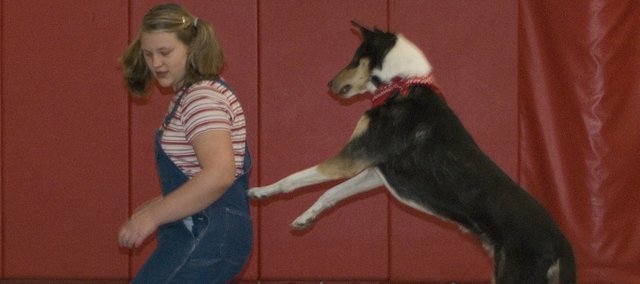 Witaker, Anna Buddish's 7-year-old smooth collie, anxiously awaits a signal from the Leavenworth teen to begin their dog freestyle dance routine.
Once the music begins, Buddish, 15, and Witaker start the show. Witaker moves through Buddish's legs on cue as the pair works their way around the wrestling practice room at Lansing High School.
Buddish said they have spent the last week practicing the routine, which uses tricks that Witaker has been practicing since he was a 2-year-old.
Photo Gallery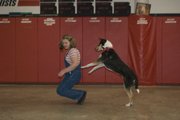 4-H Day
"When I first got him I was having trouble keeping his attention," Buddish said. "So we started freestyling to keep his attention."
On Saturday, Buddish, Witaker and other 4-H Club members throughout the county gathered at the high school for their annual 4-H Club Days competition.
The 4-H competitions at the high school involved some public speaking, acting, vocal and instrumental competitions as well as dancing with and without animals.
There were also competitions for how each of the county's 4-H clubs ran their meetings and if they were following proper procedure.
"These kids have worked hard and they turn out to be good leaders," said Michelle McIntyre, a 4-H Day volunteer. "It builds self-confidence, self-esteem and determination. When it comes down for a job interview it won't be a big deal for them, it's a piece of cake."
Beth Hecht, 4-H agent for the Leavenworth County Kansas State Research and Extensions Office, agrees that not only will the kids participating in the competitions see the results later in life, but they can see what kind of effect the practice is having on them now.
"I hear more often than not teachers knowing that kids had some 4-H background when they are asked to do public speaking because they do these demonstration at their club meetings throughout the year," Hecht said.
Besides wining ribbons, the 4-Hers were given tickets for each competition they were in, which could be drawn for a $50 prize.