Chieftains send six to state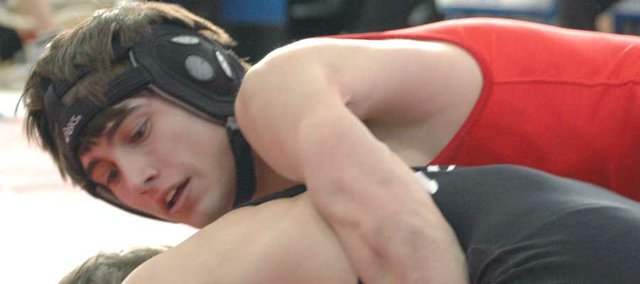 Perry — They might have gone stir crazy if they didn't have their teammates with them.
Junior Matt Brock and senior Cameron Adcox arrived at Perry-Lecompton High with their Tonganoxie High wrestling teammates on Saturday around 10 a.m.
Having won in the semi-finals on Friday night, both Brock and Adcox knew they had secured a spot in the Class 4A state tournament and weren't scheduled to take the mat until the evening.
Luckily for those two Chieftains, 11 of their teammates were still fighting to join them at state.
"I was focused on cheering everyone on," Brock said. "I wanted all my teammates to come with me. The more the merrier."
When the dust settled Saturday night, six THS grapplers had earned a trip to wrestle in Salina this weekend by finishing in the top four at the 4A regional.
Brock (130) won the regional championship, which was his goal coming into the weekend. For his efforts, he was awarded with a first-place medal and a large wooden plaque in the shape of Kansas, which Brock will use in some fashion or another.
"It felt good to be on top, hold my plaque," Brock said. "That thing's pretty big. I'm gonna hang it over my bed : eat off of it or something."
Adcox (285) finished second, falling 8-5 to Royal Valley's Woody Roberts, an Iowa transplant who is undefeated since moving to Kansas this season.
Travis Adcox (140), Cameron Adcox's cousin, took third by pinning Chance Davis of Clay Center. Kevin Hamm (119), Wyatt Coffin (152) and Steve Davis (171) each finished fourth.
By qualifying six wrestlers at the regional, THS tied a school record for state qualifiers in a season. Coach Jeremy Goebel though this might be the year to set a new standard, but was proud of all 13 of his wrestlers.
"As a coach, you always hope for more, but every one of our kids wrestled hard," Goebel said. "I thought, as a team, we put together our best tournament of the year when we needed to."
Brock said sending six to state was quite an accomplishment.
"It's a really big deal," he said. "We tied with one of the best teams Tongie ever had."
Cameron Adcox said the team wanted to make history at the regional.
"We wanted to go ahead and break the school record, but some chips didn't fall our way," he said. "It's still been a (heck) of a (weekend)."
Adcox didn't let the weight of the situation or the all-day wait bother him on Saturday. Because they were in the same boat, he stayed occupied by hanging around with Brock most of the day.
As for the rest of his time - "Goofing around, sleeping and eating - that's the three basic things," he said.
The senior was even loose in the hour leading up to his regional title match. As Travis Adcox headed to the podium to be recognized for his fourth-place finish, his older cousin saw an opportunity to razz him.
"I love you, Travis," Cameron bellowed from 20 feet away.
"We're kind of like a joking family. I give him stuff all the time, he gives me stuff," Cameron said. " It's just another stage that I can embarrass him at."
The fun will continue for the Chieftains beginning on Friday at the Salina Bicentennial Center. But the THS grapplers will take the opportunity seriously.
"We can't just be satisfied going there," Brock said, hoping that the momentum he built at Perry will carry over to a top-six finish at state.
Each wrestler worked all year with state in mind, and Cameron Adcox said there's little the Chieftains can do this week to improve. They just have to hope a season's worth of practice and training will pay off.
"You can't get too much better, too much more in shape in one week. We're just going to go in there and wrestle hard," he said.
Goebel said his team would enter the tournament with one thing in mind.
"We got there," he said. "Now let's go down there and get a medal."