Chieftains split home, away with Bishop Ward
Boys fall at home; girls win on road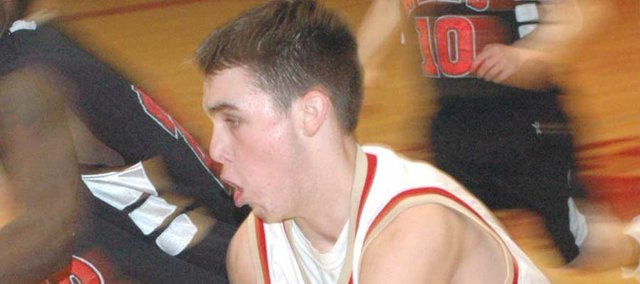 A two-point first quarter led to a 41-27 loss on Tuesday for the Tonganoxie High boys basketball team as the Chieftains couldn't seem to put the ball in the hoop or keep the deficit in single digits against visiting Bishop Ward.
"We just missed some shots," coach David Walker said. "I thought we got some good looks at the basket - close looks. We just didn't execute and finish our shots."
Trailing 13-2 after the first quarter, the Chieftains offense eventually got going. Freshman Jeremy Carlisle and junior Austin Smith both produced off the bench. Carlisle scored a team-high seven and Smith scored six.
THS cut the Cyclones lead to single digits late in the third quarter and in the opening minute of the fourth, but again had numerous shots rim out.
"It kind of bounced in and out all night," Walker said.
Keith Wentz-Hall scored five, and Gabe Belobrajdic and Tyson Letourneau each had four.
Scoring by quarters:
Bishop Ward 13 12 6 10 - 41
Tonganoxie 2 11 7 7 - 27
Tonganoxie girls 63, Bishop Ward 55
The Tonganoxie girls, playing at Bishop Ward, picked up their 13th straight victory with a 63-55 win.
The Chieftains battled back from an early 23-10 hole against the Cyclones.
Liz Baska scored 22, Shannon Carlin had 16 and Chrissie Jeannin netted 13 points for the Chieftains. Abby Eisman scored seven and Tracie Hileman finished with four.