Rome's busy night ends in loss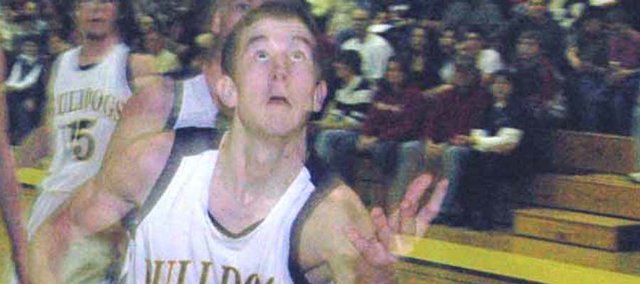 McLouth — Mike Rome had a busy Friday night.
It started in fairly normal fashion for the McLouth High boys basketball senior. He and his fellow Bulldogs put on their uniforms and got ready to hoop.
But things got hectic once the game with visiting Kansas City Christian tipped off.
Rome injured his right wrist when he was hammered on a layup in the second quarter. Later in the third quarter when officials spotted some blood on his uniform, he had to trade in his usual No. 25 jersey for a No. 13.
Oh, yeah. And at halftime he was selected McLouth High "King of Court" during a special ceremony.
In the meantime, Rome scored a team-high 16 points in a 53-47 loss.
Rome's final feat came with 1:44 to go in the contest when he knocked down a jumper in the paint to cut a one-time 11-point deficit to five. That was as close as the Bulldogs got, but Rome liked the fight they showed in the loss.
"We never give up - that's what's so good about our team," he said. "We've improved so much from our first game. We just keep going, keep pushing it."
After the Rome jumper, which capped a 6-0 MHS run, KCC called a timeout.
"We went on a little mini-run there and their coach did a good job to stop it," Bulldogs coach Jason Schroeder said.
From that point on, MHS (5-12 overall, 1-6 Delaware Valley League) was in catch-up mode and had to foul the Panthers to extend the game. KCC hit three of six free throws in the final two minutes.
"They missed them, but we didn't take advantage of the fact they were missing their free throws - that was the biggest difference," Schroeder said. "We just didn't come down and do our part and score."
McLouth's only bucket in that span came with 12 seconds remaining when sophomore Cole Batman banked in a runner, finishing with 10 points.
Despite the setback, Schroeder praised Rome and senior starters Ryan Smith and Mark Stewart (the other two candidates for the "King of Court" honor) for their effort against a longer, athletic KCC squad.
"Those guys are crucial to what we do," he said. "Rome got hurt in the first half. His wrist was sore, his back was sore, he had to change his jersey because it had blood on it, but he kept coming at them."
Rome said that's what he would expect out of any Bulldog.
"I just stick it through and try and do it for the team," he said. "I'm sure they would do the same for me, suck it up and keep going."
Schroeder said Stewart's fourth-quarter defense on the Panthers' McEldowney gave MHS a chance at a comeback.
"Stewart, he's the one who we put on No. 23 to get us stops, and he also had some big buckets in the second half, driving it to the basket," the coach said.
As for the 5-foot-11 Smith, Schroeder loved his toughness.
"Ryan Smith, he's a workhorse. He's small, but he gets in there and rebounds. He knows when to cut to the basket."
Stewart and Smith each scored five points in the loss. Junior Derrick Crouse added 10.
Scoring by quarters:
KC Christian 18 13 15 7 - 53
McLouth 11 15 11 10 - 47