Twelve and counting?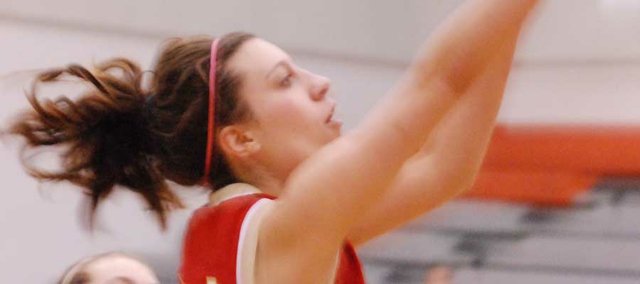 Bonner Springs — Another game, another win.
That's the way things are going for the Tonganoxie High girls basketball team following a 45-31 victory at Bonner Springs on Friday.
The Chieftains have now won 12 straight, not that they're keeping track.
"It's one game at a time. That's the way we've always been," coach Randy Kraft said. "Once that one's over, we think about the next one and the next one's the most important one we have. We're not even really aware of the streak or any kind of streak that we've ever had here."
The Chieftains (16-2) won with a balanced attack. Chrissie Jeannin scored 14, Liz Baska had 11 and Shannon Carlin finished with 10.
"We had several kids that played well at different parts of the game," Kraft said, noting that THS exploited different match-ups depending on what kind of defense it faced. "We had pretty balanced play by all of our kids."
THS outrebounded the Braves, 39-31, after Kraft recently spent more time emphasizing the importance of board work.
"We hadn't been rebounding the ball as well as what we would normally do, as we have in past years," he said. "I kind of challenged the kids to do a much better job on the boards and I think they came through for us in that game."
Scoring by quarters:
Tonganoxie 18 9 12 6 - 45
Bonner Springs 8 6 6 11 - 31