State-bound grapplers get sendoff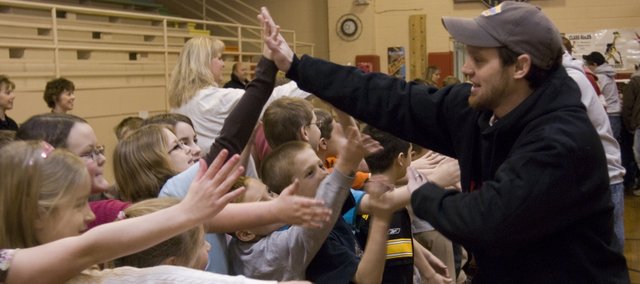 The Tonganoxie High boys wrestlers are officially on their way to Salina to compete in this weekend's 4A state tournament at the Salina Bicentennial Center.
But before the six state-bound contenders, (Kevin Hamm, Matt Brock, Travis Adcox, Wyatt Coffin, Steve Davis and Cameron Adcox,) hit the road, they got a big sendoff at THS and from all of wrestling coach Jeremy Goebel's student's at the Tonganoxie Elementary School.
"I want to thank all of my students, you guys are the greatest students in the world," Goebel said during a TES assembly.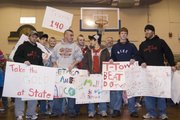 The TES students could barley hold in their excitement as Goebel and his wrestlers entered the TES north gym. The grade-schoolers waived signs with the wrestler's names and weight class as well as signs with encouraging messages like "get gold at state," and "T-Town beat down."
"I remember when I was your age I would have loved for a bunch of high-schoolers to come and talk to us," said Travis Adcox. "Thank you for giving us all of your respect. That's so awesome, I love all of you."
Before the assembly, Tammie George, TES principal, coached the elementary kids on how they would greet the wrestlers and why they were sending them off.
"When you are an athlete that is a really neat thing to hear other people say good luck and do a god job," George told the students. "That really helps you to do your best."
After Goebel and some of his wrestlers said a few words, the elementary school students started shouting "Tongie, Tongie," at the top of their lungs as the team made its way around the gymnasium high-fiving them. The team left TES to get in its van, which got a police escort out of town.
First-round matches at Salina begin on Friday morning.