Gold no longer attainable for Chieftains
Tonganoxie's Brock ousted in 4A semifinals, will shoot for bronze Saturday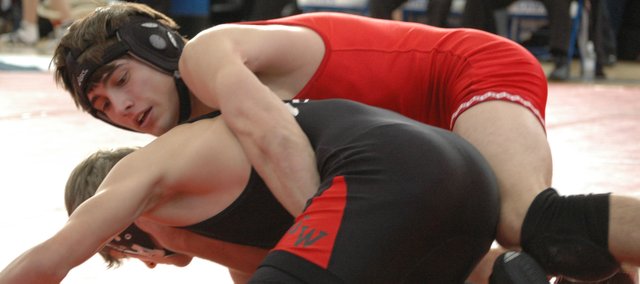 Salina — Six Chieftains entered the gauntlet that is the 4A state wrestling tournament on Friday at the Salina Bicentennial Center, and three remain alive for Saturday's action.
However, none of the Tonganoxie High grapplers will have a chance to finish higher than third.
THS junior Matt Brock's dreams for a gold medal will have to wait until 2009.
Brock was Tonganoxie's final hope for a gold medal, but he will enter Saturday in the consolation bracket.
After winning his first match in commanding fashion, 18-3 against Hugoton senior Rafael Ortiz (18-13), Brock faced off against Santa Fe Trail senior Dustin Hill, whom Brock has faced serveral times this season.
Brock actually trailed 5-2 after two periods and was down 6-4 with 10 seconds left, but Hill was whistled for stalling. Brock was awarded two points and the match was tied at six. That forced the bout into overtime, when Brock recorded a takedown and won the match, 8-6. The THS junior improved to 35-5, while the SFT senior fell to 23-9.
Brock wrestled later Friday in the 140-pound semifinals against Baldwin's Kevin Callahan. The Bulldog senior improved to 37-6 and advanced to the state championship by defeating the THS junior. Brock fell to 35-6 and will wrestle in the consolation bracket Saturday.
For the rest of the Chieftains at state, the journey has gotten off to a bumpier start.
The rest of the THS state competitors - Kevin Hamm, Travis Adcox, Wyatt Coffin, Steve Davis and Cameron Adcox, all lost their first-round matches.
But Travis and Cameron Adcox bounced back in their first-round consolation matches to stay alive.
Hamm, Coffin and Davis all lost in the first consolation round and were eliminated from the tournament.
Travis Adcox (140) pinned Nick Collins of Augusta in the third period to earn at least one Saturday match. His cousin, Cameron Adcox edged Baldwin's Jake Ennick, 7-4, to become the third and final Chieftain to survive the first day of the tournament.
Hamm entered state with a 27-15 record, but fell in the opening round to Hesston's Travis Janzen, who improved to 33-4 with a 19-13 vicotry in the 119-pound bout. Later, Hamm lost 10-3 to Zach Jesseph of Chanute, becoming the first Chieftain to be eliminated..
Senior Travis Adcox fell to 36-10 after getting pinned in his 140-pound first-round matchup against Abilene's Quinton Winthow (27-10).
At 152, Wyatt Coffin fell to 27-17 on the season after Andover Central's Chris Watson (34-2) pinned him in their match. Coffin was eliminated when Aaaron Deeds of Goodland (34-6) earned a 15-0 decision.
In the 171 class, THS junior Steve Davis (26-13) fell to Augusta's Chris Stuart (34-2) by pin in his first match and was eliminated in the consolation bracket when he lost 4-0 to Darnell Bortz (35-7) of Pratt.
The final Tonganoxie match of the first round, at 285, saw senior Cameron Adcox (30-11) lose to Andale sophomore B.J. Finney (22-8).
Although the Chieftain grapplers who advanced to Saturday are out of the running for state titles, they still are eligible to place at state in the consolation bracket if they continue to win. If they win out, they would finish third in their respective weight classes.
For more reports from Salina, check back to The Mirror's Web site on Saturday.