Tonganoxie trio places at state
Grapplers make
THS

history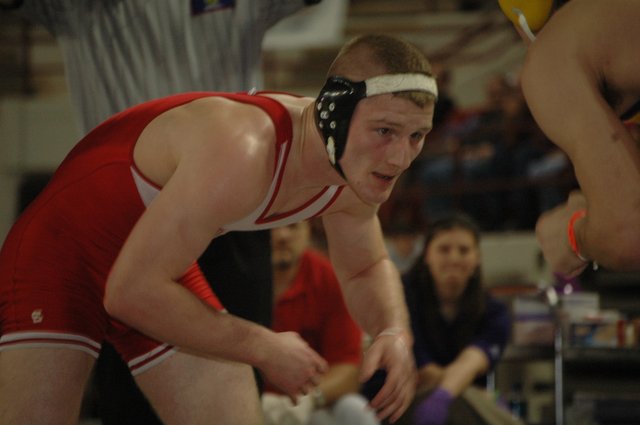 Salina — It was a bounceback Saturday for the Tonganoxie High wrestling squad at the 4A state tournament.
Following a rough start at the Salina Bicentennial Center on Friday when the Chieftain wrestlers started 1-5 and finished the day 4-9, junior Matt Brock and seniors Cameron and Travis Adcox - the three THS grapplers who weren't eliminated on Friday - combined for a 6-0 start on Saturday and each placed in the top six of his weight class by advancing to at least the semifinals of the consolation bracket.
Brock (130) and Travis Adcox (140) finished fourth and Cameron Adcox (285) took sixth, marking the first time in THS history that more than one wrestler has placed at state in the same season.
The Chieftains eventually cooled down on Saturday against stiff competition. All three wrestlers lost their last match - Brock was pinned by Paola's Matt Noblet, Travis Adcox lost 10-5 to Spring Hill's Russell Naylor and Cameron Adcox was edged 3-2 by Colby's Taylor Brown - but the wrestlers remained positive.
"For me, being my last year wrestling, it was always what I wanted," Travis Adcox said. "I just wanted to place in state. To bring my cousin with me and (Brock) with me -it was amazing."
Brock said he was happy to see his senior teammates end their careers on a positive note.
"It's their last year and they had nothing left to lose," Brock said. "Just seeing Travis and Cameron give it all they have, it's awesome."
While Brock entered Saturday in the consolation semis (he won his first two matches Friday before losing his third), the Adcox cousins had to win a pair of bouts to become eligible to place.
Travis Adcox opened Saturday action for the Chieftains with a 7-5 decision over Brian Noller of Russell and secured at least a top-six finish by pinning Hogoton's Cody Hill.
Cameron Adcox also won his first two matches -he pinned Kyle Smith of Rose Hill and received a 7-3 decision over Spencer Hilley of Clearwater -before losing his final two matches by decision.
For more on the state wrestling tournament, see Wednesday's edition of The Mirror.