County officials present 20-year plan
County officials present 20-year plan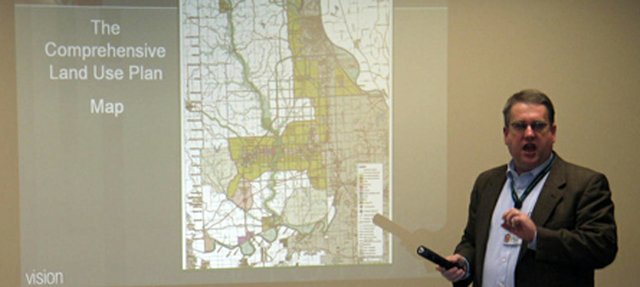 Several dozen government officials, business leaders and interested residents from across Leavenworth County came to the Community National Bank of Basehor Tuesday evening, Feb. 19, for an overview of the county's impending comprehensive land use plan.
The presentation from Leavenworth County Planning and Zoning Director Chris Dunn, citizen-volunteers on a 14-member comprehensive plan committee and consultants with Kansas City, Mo.-based Ochsner Hare & Hare offered insight into the plan, which will "serve as the official policy document to guide present and future growth, development and redevelopment in the county."
A comprehensive plan is intended to lay out where zoning, infrastructure and development might go in the next 20 years and is required by state statute.
The Leavenworth County plan is separated into six subjects, presented on Tuesday by individual members of the comprehensive plan committee, who have met monthly since May 2007.
It will be presented to the Leavenworth County Planning Commission in April and is up for approval by County Commissioners in May.
The plan only applies to unincorporated areas in the county, but as Commissioner J.C. Tellefson has frequently said, its timing is like a "perfect storm," as it coincides with the development of a comprehensive plan in more than one city in Leavenworth, the Leavenworth County Development Corp.'s strategic plan and the final draft of a U.S. Highway 24-40 Corridor Management Plan.
The first subject, presented Tuesday by Cindy Brock, a committee member from Bonner Springs, was economic development.
In a survey of 120 residents, developing a broad tax base by retaining and attracting businesses was listed as a top priority, Brock said.
She recommended creating a unified economic development plan, achieving a proper balance between commercial and other uses and working to attract general services like grocery stores, pharmacies and medical clinics to the area.
Carl Reed, an engineer from Bonner Springs, then reviewed transportation and infrastructure issues, noting a connection to Interstate 435 via an improved Kansas Highway 5, the development of the County Road 1 interchange and improved north-south roads in western Leavenworth County as possibilities in the next 20 years.
Next, Mark Denny, a Leavenworth plumber, focused on land use.
He suggested drafting interlocal agreements with all cities in Leavenworth to ensure that development in the county meets future city requirements, and he recommended clustering residences in cities' growth areas.
"Everybody wants development just not in my backyard," Denny quipped. " : We want to control growth in an orderly fashion."
Lynn McClure, former LCDC executive director, presented the fourth subject: growth management.
McClure's primary recommendation was to promote and protect the rural character and natural resources of the county.
Sally Hatcher, a member of the Leavenworth Preservation Society, then talked about parks and recreation, including connecting bike trails in the area and developing a countywide parks and recreation department.
"All of this is really about quality of life for people who live here and for those who might want to move here," Hatcher said.
Finally, Leavenworth County Planning Commission president Steven Rosenthal focused on housing and neighborhoods.
He said the goal should be "to provide high quality housing and neighborhood choices with appropriate density, while preserving land resources and promoting connectivity of spaces."
After each citizen-volunteer presented his or her subject, the floor was opened for questions and answers.
One woman asked whether or not the plan would limit the number of tract splits a property owner could create.
Dunn did not mention a specific limit but said that in fringe areas near a city, 2.5-acre or smaller lots would be ideal.
"We don't want 2.5 or 5 acres so close that they choke off the growth of our cities," he added.
Concerning water districts and wastewater management, Dan Carr of Leavenworth, said there needs to be a single entity that governs all of the county's resources.
Matt Nowak, an avid cyclist from Lansing, asked about the possibility of adding wider shoulders to all county roads.
Dunn explained that of the county's 500 miles of gravel road, five miles are upgraded to paved surfaces each year.
He went on to compare Tuesday's presentation to a presidential state of the union address where many ideas that cannot all be funded are thrown out all at once.
"There's a list of so many great things to do that if we did them all it would bankrupt us," Dunn said. " : None of the things that are thrown up here tonight are funded yet."
Diane Binckley, senior planner with Ochsner Hare & Hare added that an implementation plan or finding a way to put into practice the ideas that were set forth must be included before the comprehensive plan is presented to the planning commission.
For residents not present at Tuesday's meeting, McClure noted that all data, surveys and maps relating to the comprehensive land use plan can also be found on the county Web site at leavenworthcounty.org, under a tab for planning and zoning.