Triumphant triumvirate
Tonganoxie trio picks up multiple medals, making
THS

history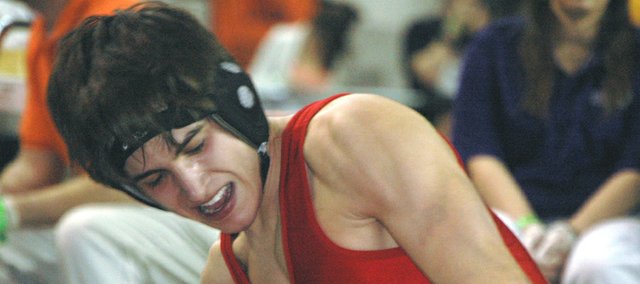 Salina — On Friday it looked as though the Tonganoxie High wrestling team might be history at the 4A state wrestling tournament. A day later the Chieftain wrestling team made some history.
Following a rough start at the Salina Bicentennial Center on Friday when Chieftain wrestlers started 1-5 and finished the day 4-9, THS turned things around quickly on day two of the tourney.
Junior Matt Brock and seniors Cameron and Travis Adcox - the three THS grapplers who weren't eliminated on Friday - combined for a 6-0 start on Saturday and each placed in the top six of his weight class by advancing to the semifinals of the consolation bracket.
Brock (130) and Travis Adcox (140) finished fourth and Cameron Adcox (285) took sixth, marking the first time in THS history that more than one wrestler placed at state in the same season.
"We talked about finishing all year and we did that," coach Jeremy Goebel said of his team's Saturday performance.
The Chieftains eventually cooled down on Saturday against stiff competition. All three wrestlers lost their final match - Brock was pinned by Paola's Matt Noblet, Travis Adcox lost 10-5 to Spring Hill's Russell Naylor and Cameron Adcox was edged 3-2 by Colby's Taylor Brown - but the wrestlers remained positive.
"For me, being my last year wrestling, it was always what I wanted," Travis Adcox said. "I just wanted to place in state. To bring my cousin with me and (Brock) with me - it was amazing."
Brock said he was happy to see his senior teammates end their careers on a positive note.
"It's their last year and they had nothing left to lose," Brock said. "Just seeing Travis and Cameron give it all they have, it's awesome."
While Brock entered Saturday in the consolation semis (he won his first two matches Friday before losing his third), the Adcox cousins each had to win a pair of bouts to become eligible to place.
Goebel said their ability to place after losing their opening matches at state made the feat especially impressive.
"We did it the hard way," Goebel quipped.
Travis Adcox opened Saturday action for the Chieftains with a 7-5 decision against Brian Noller of Russell and earned a berth in the consolation semifinals h by pinning Hugoton's Cody Hill.
Cameron Adcox also won his first two Saturday matches - he pinned Kyle Smith of Rose Hill and earned a 7-3 decision against Spencer Hilley of Clearwater - before losing his final two matches by decision.
Although he would have preferred to end his high school career with a victory, Cameron Adcox took great pride in what he, his cousin and Brock were able to accomplish for the THS program.
"It means a lot," the heavyweight said, "just to go out there with a bang, kind of the last hurrah. It just feels really good to know we're going to go down in the record books."
Six Chieftains qualified for the tournament, but juniors Kevin Hamm (119) and Steve Davis (171) and senior Wyatt Coffin (152) were eliminated on Friday when they lost two matches apiece.
Coffin said the Salina trip was a bittersweet end to his career.
"It's great coming to state, but it would've been better to place," he said. "It's tough competition. It's the best of the best."
Goebel said Tonganoxie's success this year at state was a significant step for the program.
"Our goal was to bring a medal home and we did that. Now we've just got to maintain that and hopefully this will inspire those young kids," the coach said, already thinking a little about the future. "For us to get three medals, that's huge."
Travis Adcox finished the season as the team leader in wins (40), takedowns (56) and pins (33).
As a team, THS finished 15th at state with 36.5 points. Clay Center won the team title with a 151 score.
Area Roundup
Here is how other area schools fared:
4A State Tournament in Salina - 10. Baldwin, 50; 13. Santa Fe Trail, 41; 21. Perry-Lecompton, 31; 29. Basehor-Linwood, 20; Piper, 19; 44. Eudora, 4.
5A State Tournament in Hutchison - 14. Lansing, 52.5; 19. Mill Valley, 34; 23. Bonner Springs, 19.