Chieftains advance to sub-state finals
Carlin scores 13 in fourth for Chieftains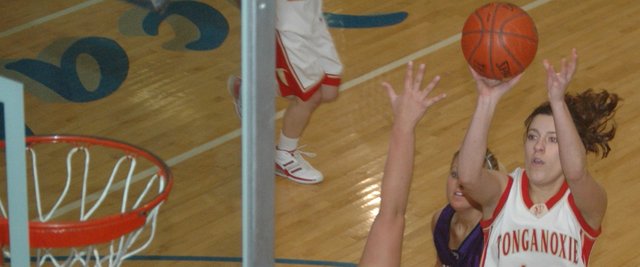 Holton — The Tonganoxie High girls basketball team advanced to the sub-state finals with a 58-49 win against Royal Valley on Thursday at Holton.
The Chieftains were tied with the Panthers, 24-24, at halftime, but found more scoring opportunities in the second half by tweaking the offense.
"In the first half we were settling for a lot of outside shots and we weren't really getting it in to our posts," coach Randy Kraft said.
After some halftime adjustments - namely giving senior forwards Liz Baska and Shannon Carlin more room to operate - things came a little easier.
"Liz did a lot in the third quarter when they really started worrying about her," Kraft said of Baska, who scored five of her 11 points in the third.
Once the RVHS defense focused on Baska, Carlin went to work in the fourth quarter, scoring 13 of her game-high 22.
"My approach was to go in and play the game - play smart, do what needs to get done," Carlin said.
The senior said it was her job as a leader to make sure the Chieftains (19-3) didn't play hectic or become overwhelmed in the final minutes of an elimination game.
"I wasn't worried," Carlin said of the close contest, even though Royal Valley was always within striking distance. "I really didn't feel pressure, honestly. Our team's real good about pulling through. We know in tight situations we have to make the smartest plays and I think we do most of the time. You can't go in there fretting, being scared that 'Oh my gosh, we're gonna lose.'"
Carlin said Tonganoxie took a more positive approach: "We've still got two minutes on the clock. Let's play. Let's play our hardest these last two minutes."
Christy Weller had nine points, Chrissie Jeannin scored eight and Roni Grizzle finished with seven points for the Chieftains.
The Chieftains will play for a state tournament berth on Saturday at 6 p.m. against sub-state host Holton. The Wildcats defeated Hayden, 56-36, on Thursday night to improve to 21-1 for the season.