2007: Review takes look at area news, newsmakers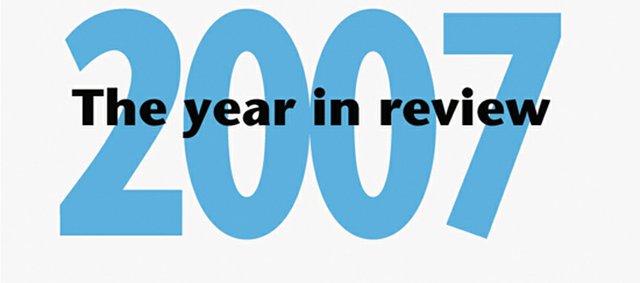 Editor's note: This is the first in a series that takes a look back at important events in 2007, as reported in The Mirror.
January
Leavenworth County Commissioners received good news in regards to expected costs for upgrading County Road 1 to connect to a turnpike interchange in Leavenworth County. According to refined cost estimates provided by the engineering firm HNTB, the road improvement project will cost $12,961,000. That compares to earlier estimates of $13.5 million and $14.5 million.
Five representatives of Oskaloosa's Petticoat Council, a loosely knit Jefferson County organization representing America's first all-women city council, made an appearance at a Leavenworth County Courthouse event. The organization reflects a historical event - in 1888 in Oskaloosa, six women ran against men for city council seats. All six of them won, marking the nation's first all-women city council. The local women are: Gail Thomas, Candace Braksick, Beverly Muzzy, Irene Drummon and Jan Hehn.
Two Tonganoxie school board members filed for re-election: Diane Truesdell for Position No. 1 and Leana Leslie for Position No. 3.
Rural Tonganoxie resident Doug Meyer is the proud owner and trainer of Ace, an English pointer dog. Ace is one of many dogs that Meyer trains and was a first-place winner at the National Walking Shooting Dog Championship competition in the fall of 2006.
A Tonganoxie High School grad was sentenced to a year in prison but then placed on probation for his involvement in Medicaid fraud scheme. In October 2006, Jay Parker pled guilty in Jefferson County District Court to Medicaid fraud. As part of his plea agreement, he paid $75,000 in restitution to the Kansas Medicaid program.
Tonganoxie High School band director Charles VanMiddlesworth was standing fairly close to greatness at the 2006 Liberty Bowl in Memphis, Tenn. The THS band was performing at and competing in various Liberty Bowl band activities. In addition, the band performed alongside musician LeAnn Rimes. VanMiddlesworth reported that he was about 20 feet from her.
Rhodee and Cynthia Florence had to make an emergency stop at the parking lot of the Kansas Speedway so that Rhodee could deliver his 7-pound, 4-ounce baby boy. The Florences were on the way to Overland Park Regional Medical Center when Cynthia told her husband to pull over so she could deliver the baby.
For several months, rumors had swirled in Tonganoxie about alleged behavior in the THS football locker room. At the January school board meeting, district patron Larry Bouza spoke in open session about the situation. Bouza said he was representing concerned parents "who do not feel they can voice their concerns about inappropriate activities within the football program." The inappropriate activities, Bouza alleged, included players urinating on other players in locker room showers, a choking incident in a THS restroom, players hitting other players with towels and players putting Bengay on another player's crotch. He said he believed most of the inappropriate behavior was done by upperclassmen to freshmen and sophomores.
Steve Fox, the father of a freshman football player, said parents of freshmen players met with THS coach Mark Elston to discuss the choking allegations and other incidents. Fox said things were handled well and that he was happy with "the way things went down."
Tonganoxie couple Phyllis and Roger Shilling filed a request under the Kansas Open Records Act, seeking e-mails about the proposed turnpike interchange among several officials associated with the project. The Shillings led a petition drive to force a public vote on whether the city should contribute funds to a project to upgrade Leavenworth County Road 1. Construction of the interchange is contingent upon the county road improvements. The city also was challenging in court the Shillings' effort at forcing a vote on County Road 1 funding.
The Tonganoxie boys and girls basketball teams played their first games in the refurbished THS gymnasium. Some of the enhancements included new locker rooms, additional seating in the gym, a new floor and a new concourse area north of the gymnasium. Both squads faced Bonner Springs and swept the Braves.
A Jan. 17 article revealed that Tonganoxie Police Chief Kenny Carpenter, who had recently retired as a command sergeant from the Army Reserve, kept guard over Saddam Hussein while he was detained in Baghdad in 2004. Carpenter said that he felt more comfortable about talking about his experiences in light of the former Iraqi president's execution. Hussein was executed Dec. 30, 2006.
County residents Dorothy Korb, Ron and Barbara Ernzen, Nellie Grafke, Elmer Karczewksi and Brian Potter were honored with annual soil conservation awards.
John Taylor, editor of the Lansing Current newspaper, was named editor of the The Mirror of Tonganoxie and the Sentinel of Basehor. Taylor replaced Caroline Trowbridge, who led The Mirror as editor and publisher since November 1999. She also served as Basehor Sentinel editor since April 2005.
The THS girls basketball team won its second Tonganoxie Invitational with a 50-37 win against Lansing. The THS boys defeated Immaculata, 54-47, for third place in their bracket of the 58th installment of the boys invitational.
The Leavenworth County Fair Board and the Abdallah Shrine agreed to bring the Shrine Rodeo to Tonganoxie. The event formally was in Wyandotte County.
A chili and soup-supper fundraiser was staged to benefit Tonganoxie's Travis Schultz, who was paralyzed from the waist down after a Sept. 15, 2006, four-wheeler accident fractured his sixth and seventh thoracic vertebra.
Chris Donnelly, executive vice president of First State Bank and Trust in Tonganoxie, was named the Tonganoxie Chamber of Commerce's 2006 Citizen of the Year.
The McLouth High School girls basketball team won a first-round game at the Jefferson County North invitational for the first time since 2001 with a 50-40 victory against Maranatha Academy of Shawnee. The team finished in fourth place at the tournament.
February
The Kansas State Board of Education revoked the license of former Tonganoxie Elementary School principal Jerry Daskoski. In December 2006, Daskoski resigned from his position, saying he needed to spend more time with his wife and family. However, his license was revoked Jan. 9 in light of felony theft charges filed against him in November 2005 in Wichita.
TMS seventh-grader Kody Campbell made a historic shot in the TMS gymnasium Jan. 8. His basket with 3:53 left in the first quarter against Clark Middle School of Bonner Springs marked the first for a Tonganoxie player in the new gymnasium.
McLouth defeated archrival Oskaloosa, 63-51, and improved its boys basketball record to 7-7 on the year. The girls squad also defeated its archrival, winning 46-42 against Oskaloosa.
Candidates for McLouth's King and Queen of Courts were queen candidates Megan Howerton, Erin Heckard and Amanda Cain. King candidates were Ryan Saxton, Trevor Keling and Andrew Booth.
The Tonganoxie School Board postponed paying bills submitted by board member Darlyn Hansen, who had been shopping for the district. Board member Leana Leslie said she did not want to approve paying bills to Hansen's firm, Micro Resources, until she knew more about the items that were purchased.
THS seniors Zeb Kissinger and Justin McDaniel signed letters of intent to play football at Baker University in Baldwin.
A Valentine's Day accident on U.S. Highway 24-40 claimed the life of Tonganoxie 19-year-old Amanda Bixby. The three-vehicle accident occurred at 9:15 p.m. at U.S. 24-40 and 158th Street. Ricardo Flores, 20, of Lansing, was driving north on 158th Street in his Toyota 4Runner when the vehicle struck a Dodge Durango driven by Bill Nichols, Basehor, before striking Bixby's Ford Taurus. Flores was cited for vehicular homicide, failure to yield and no driver's license.
Lawrence developer Garreth Hippe was in the early stages in February of developing 33 acres of newly annexed land at the west edge of Linwood for a housing development known as Orchard Ridge.
In McLouth, eight candidates filed for three seats in the city council race. Six of the candidates were challengers.
THS Class of 1977 classmates Kathy Baragary and Craig Lohman advanced in the school board primary election. The two advanced by beating out Rex Hutton, who finished third in voting for Position 2. Mildred McMillon and Bill Weatherford advanced for the at-large seat, as Francie Campbell was ousted in the primaries for that position.
Bonner Springs snapped the THS girls basketball team's 48-game Kaw Valley League winning streak with a 47-44 win at BSHS. Tonganoxie's last league loss was in January 2004 against De Soto, which later joined the Frontier League.
THS wrestlers Cameron Adcox, Matt Brock and Wyatt Coffin advanced to the state wrestling tournament at a Class 4A regional in Holton. All three qualified for the state tournament for the first time.
A furious rally by the THS boys basketball squad fell just short in the Class 4A substate quarterfinals against Baldwin. THS battled back from a 19-point second-half deficit against the Bulldogs and actually led, 60-59. But THS couldn't score in the final 1:42 of the game and fell, 70-62. Tonganoxie finished the season 10-11 after going just 2-19 the previous year. Highlights included an Osawatomie Invitational championship and third-place finish in the team's own tournament.
March
For two years in a row, Tonganoxie seniors were named National Merit finalists. Justin Smith was this year's finalist and was eligible for a $10,000 a year scholarship at Kansas University.
Paula Prosser was crowned Miss Leavenworth County at the first-ever Miss Leavenworth County Scholarship pageant, which was at Basehor-Linwood High School.
Steve Jack took over the position of executive director of the Leavenworth County Development Corp. The Manhattan native, who took the place of Lynn McClure, said he had been involved in economic development for 21 years.
A pit bull belonging to Kevin Cook killed a pregnant miniature horse that belonged to Kay Moyer. The attack took place in Moyer's home in the 18000 block of 178th Street. Three other mares were injured in the attack.
The Chieftain girl's basketball team beat Eudora 46-34 bringing their record to 22-1 and gave them their second 4A state tournament berth in three years. The Chieftains finished in fourth place in the tournament in Salina.
The girls basketball team also landed three players in the All-Kaw Valley League team. Ali Pistora, senior, and Elizabeth Baska, junior, won first-team accolades. Rachel Bogard, senior was named honorable mention. Gabe Belobrajdic was selected fist-team for the Tonganoxie boys basketball team. THS senior Jeff Hughes earned an honorable mention.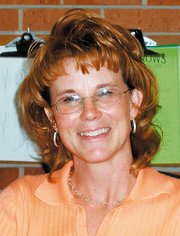 The Tonganoxie School Board lifted the paid suspensions of then Tonganoxie High School Principal Tatia Shelton and Darren Neas, Tonganoxie Middle School assistant principal, during a regularly scheduled board meeting. Superintendent Richard Erickson did not comment on the reason for the three-day suspensions.
During a special meeting March 16, school board meeting, the board voted 6-0 to accept the resignations of Shelton and Nease. The administrators were allowed to finish out their contract while on paid leave. In return the two administrators agreed not to sue the school.
Brothers Ryan and Aaron Bowen decided to move Gambino's Pizza into the area left vacated Mo's Pizza.
Opponents of the interchange to Interstate 70 at County Road 1 looked to Lawrence attorney Price Banks for help in getting the interchange moved to a different location.
April
Challenger Mike Vestal won the race for Tonganoxie mayor. Vestal, a dispatcher for the city's Police Department, defeated incumbent Dave Taylor, 365-341. In the race for two Tonganoxie City Council seats, Tom Putthoff and Paula Crook were the top two vote-getters ahead of Robert Altenhofen and incumbent Velda Roberts. The three-fourths of a cent sales tax proposal to build a new city swimming pool also passed by a 477 to 240 count.
In Tonganoxie School Board balloting, Diane Truesdell defeated Alan Theno in Position 1, while Kathy Baragary defeated Craig Lohman in Position 2. In Position 3, incumbent Leana Leslie defeated Patti Bitler. And for the at-large position, Mildred McMillon, who had served on the board from 1976 to 1986 and the state board from 1986 to 1998, beat out Tonganoxie physician Bill Weatherford.
In Linwood, Georgiana Smith won the mayor's race against Mary Morris. Robin Hilt and Jay Barnard won Linwood City Council seats.
In McLouth, a vote to increase the sales tax by 1 percent to fund utility improvements failed, 139-116. The McLouth City Council race saw Sharon Lobb Johnson and Charles Karmann become the top two vote-getters. Myra Harwood and Gerald Sullivan tied for the third and final seat. Provisional ballots later pushed Harwood ahead of Sullivan and gave her the council seat. In the McLouth School Board race, Ed Courtney and Mike Tullis won election.
Tonganoxie Middle School principal Steve Woolf accepted the same position in the Turner school district in Kansas City, Kan. He had been at Tonganoxie for eight years.
The THS girls soccer team won its first game in school history with a 3-0 win against Bonner Springs. The program was started for the 2006-07 school year.
Laurie Walters, owner of Wildhorse Orchards near McLouth, was without a crop for 2007. Late cold weather destroyed her apple and peach crops.
Tonganoxie Assistant City Administrator Kathy Bard was back at work April 6 after being suspended with pay April 5 by outgoing mayor Dave Taylor. City Hall did not publicly specify the reason for the suspension.
The Tonganoxie School Board voted to hire Tammie George as its next elementary school principal. George was serving on an interim basis as acting principal after Jerry Daskoski's December 2006 resignation.