Deep sea McKee
Former middle school coach embarks on aquatic adventure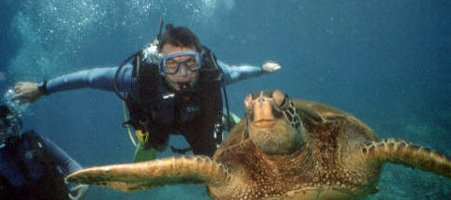 As Dave McKee swam out of an underwater canyon, he looked at the small computer that attached to his scuba diving gear.
Survey said ... 85 feet under water.
That's pretty deep. So deep that the Tonganoxie resident figured he might as well wish some luck to the THS basketball teams for the winter season while he was at it.
"The dive master was taking pictures of us as we were coming out of there," McKee, 53, said. "As I came out, I flashed him the Tonganoxie 'T' sign. I wanted it to be a good luck sign for our school teams this year."
McKee's good luck shout-out came from Ambergris Caye to be exact, the largest island on Belize. The Belize Barrier Reef, where McKee did his diving, is the second largest in the world, behind Australia's Great Barrier Reef.
McKee, who grew up in Hoyt, has lived in Tonganoxie for 10 years. He coached the Tonganoxie Middle School eighth-grade basketball team two years ago. In fact, his grandson, sophomore Keaton Schaefer, plays on the varsity team this season.
"Basketball is my first love," McKee said. "I don't miss many (THS) games. If it's not too far away, I'm there. I think the school, faculty and administration are all excellent here. Nobody is going to work harder than our kids."
McKee's other passion is scuba diving. He scuba dives about three times per year. McKee has been all over the world: The Bahamas, Tahiti, Costa Rica, Mexico and the Caribbean, to name a few. He's been scuba diving for 10 years.
McKee studies diving as well. He's one test away from earning his Masters Scuba Divers Certification. Presently, McKee is certified as an Advanced Open Water scuba diver.
McKee and his wife Nancy traveled to Ambergris Caye in early November with Steven and Carlin Schiewe, of Encinitas, Calif. The families have been friends for 25 years.
During his scuba dives, which lasted about 45 minutes on average, McKee saw his fair share of sea creatures and underwater sights, including moray eels, sea turtles, a shark and underwater canyons.
The moray eel was about 10 feet long - and hungry.
"When I dropped down to take pictures, he started biting at me," McKee said. "He was big - about 10 inches thick. It was like a rock python in size. I didn't want to take too much time irritating him."
In his 10 years of scuba diving, McKee had never seen underwater canyons. The deepest McKee has ever been underwater was 116 feet at The Bahamas. McKee and Steven dipped to roughly 103 feet in the Belize Barrier Reef underwater canyons.
Conditions at Ambergris Caye sounded pleasant. The water was clear and topped 80 degrees during the day. Weather conditions reached 88 degrees during the day and rarely dipped below 70 degrees at night.
Perhaps sometime in the future, the Great Barrier Reef could be McKee's next scuba diving destination. The trip would involve a certain level of prudence, though.
"Australia has great white sharks there," McKee said. "I don't think I want to mess with that."