Neighbors, emergency responders get prepared for start of road work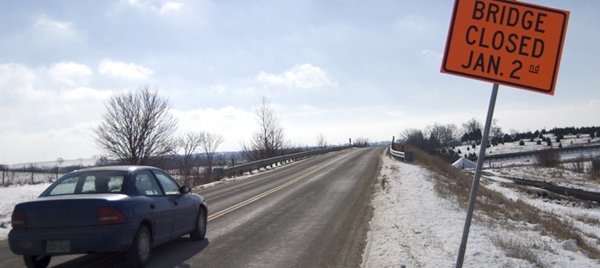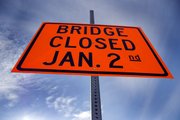 Residents may have to alter travel arrangements for what could be more than two years as construction work to improve County Road 1 south of Kansas Avenue to Kansas Highway 32 begins.
As of today, Jan. 2, the bridge leading over the Kansas Turnpike on County Road 1 is officially closed as construction begins to make the bridge compatible for a new interchange on the Kansas Turnpike.
"It's definitely going to be an inconvenience to the travelers, but our major concern of course is with emergency-response issues," said Chuck Magaha, emergency management director for Leavenworth County.
Magaha said he has been working closely with the fire chiefs and with the Kansas Turnpike Authority to create a plan to minimize the amount of time needed to respond to the scene of an emergency.
"We are going to have a list of addresses north and south of the turnpike," Magaha said. "They will be cued into the 911 system so when they call it, will go to a different responder. And if needed, we will be bringing agencies from Eudora and Douglas County to assist. "
He believes first responders will not have any delay time in arriving at an emergency, but extra help during structure fires in the area could take additional time to arrive.
Lt. Andy Dedeke of the Leavenworth County Sheriff's Office said law enforcement officers won't be as affected as firefighters or Emergency Medical Service personnel.
"It's going to be a minor inconvenience to take one of the detours," Dedeke said.
Officers will probably use County Road 25 or 214th Street to get across the Turnpike and cross over at Cantrell Road, adding about four extra miles to their trip.
Lawrence Torneden, fire chief for the Reno Township Fire Department, said his concern was not with the time needed to get to an emergency, but with road conditions once construction on CR1 begins.
He fears cars using detours will put more wear and tear on roads that already need maintenance. County engineers told him at last week's meeting that roads such as 238th Street and CR25 will receive the same amount of maintenance as they usually get.
"It's just beating the fire trucks to pieces, and additional traffic is not going to help the matter," Torneden said.
Once actual construction on the road begins, it will be left up to the contractors to leave space available on the road for emergency vehicles to use. Magaha said he wanted to sit down with the contractor to work out a plan for emergency vehicles.
Torneden said it would be up to the contractor to keep the road clear in cases of severe weather like the recent snow.
"There's really nothing you can do but bite the bullet and make do the best you can for he duration of the construction project. We will hope that the contactor does a good job keeping it accessible during that time period," Torneden said.
While county crews and emergency workers have a plan, many residents in the area will have to come up with their own plan to adjust to the construction.
Right now it takes Bryan Kemp about 6 minutes to get to work in Tonganoxie from his home on CR1 south of the bridge. With the work being done on the bridge, he is expecting his commute time to more than double.
He said he was for progress on the road, but questioned the cost and burden construction will place on homeowners in the area.
"We're going to be rerouted and substantially imposed on over this thing - it makes no sense to me," Kemp said. "Factoring how much extra money it will cost me in fuel, I'm going to be rerouted 10 miles to get to Tonganoxie. If I take gravel roads, it will cost me another set of tires, plus time. It's a huge imposition."
With his work as owner of The Light Bulb Place and Tonganoxie High School Booster Club president, as well as having a daughter attending school in Tonganoxie, Kemp said he makes the commute to town sometimes twice a day and that will start to take a financial toll. He said he may calculate how much extra money he'll need spend and would like to have the county compensate him.
"We're hoping when it's all done that it will benefit everybody, but right now, in the short term, it's not benefiting us," Kemp said.
- Reporter Eric Sorrentino contributed to this report.