Two seek vacated school board position
The Tonganoxie School Board will have two applicants to choose from as members decide who will serve out the unexpired term of board member Bob DeHoff
Tonganoxie residents Doug Tate and Jennifer Hendrix applied for the position, which became vacant in October when DeHoff resigned after serving 10 years on the board. The board took applications to fill the vacancy until a Dec. 14 deadline.
Here is a closer look at both of the candidates:
Doug Tate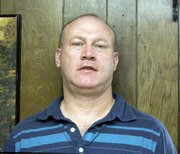 According to Tate, who has served in the Kansas Highway Patrol for 25 years, he always has been "kind of interested" in the school board process.
"I've lived in the community most of my life," said the 49-year-old Tate, who is a Tonganoxie High School graduate. "I just think education is real important and I thought I'd like to try that and be a part of the system and see how all of that works."
Tate, who also has volunteered with the Tonganoxie Recreation Commission for the past 15 years as a coach, said he has taken about 80 to 90 hours of college credits over time. He also averages about 60 hours of continuing education classes annually through the KHP.
His parents also have a history of service, as his father, Leonard, was a longtime KHP trooper and his mother, Shirley, is a former Leavenworth County treasurer.
Asked whether there were any specific areas within the board or the district that he would like to improve if selected, Tate was noncommittal.
"I haven't really gotten that far into any of that," Tate said. "Basically, that we keep a quality education for the kids."
He noted this is a key time for the district, especially with several new administrators beginning this school year in the district.
"So far things seem to be going somewhat better than they have been in the past," Tate said.
Tate and his wife, Jennifer, have six children between the two of them. Their two oldest sons have graduated and are serving in the Army. The other four currently attend classes in the district: Two are juniors, one is a freshman and the fourth is a fifth-grader at Tonganoxie Middle School.
Jennifer Hendrix
An active participant in PTA, site council and other volunteer opportunities while her children attended school in Lawrence, Jennifer Hendrix said she's now ready to give back in Tonganoxie as well.
Hendrix and her husband, Mark, have enrolled their children in the Tonganoxie School District the past five years, while they were in the process of building a new home in the Tonganoxie area. They've lived in their current home almost two years now.
While moving into their new home, Hendrix said it was difficult for her to volunteer time to the schools, as she did at Prairie Park Elementary School in Lawrence.
Now, however, she said she is ready to volunteer again, this time as a board member.
"This is my way of giving back," Hendrix said.
The 38-year-old Hendrix is a controller for Lawrence manufacturing company Sauer-Danfoss, which builds gear pumps and motors for off-road vehicles for companies such as Caterpillar and John Deere. The company also provides equipment for zero-turn-radius lawnmowers.
Hendrix originally is from Pennsylvania, but eventually moved to Kansas because of family ties. Her husband is from Tonganoxie. And, she said her family moved to Tonganoxie because she and her husband wanted a "smaller school environment and smaller community to raise our children in."
Hendrix holds a bachelor's degree in accounting from Emporia State University. She said her accounting experience, which includes work with budgets, would be a plus if she were selected to the board.
For Hendrix, communication is something she wants to see improved in the district.
"I would like to see improved communication through the parents and what happens at the administration level. And for me personally I can be involved with that (by serving on the board)."
She stressed she does not have a hidden agenda. Rather, she wants to volunteer and get more involved with the district.
"Quite frankly I've been pleased with the academic progress of all of my kids," Hendrix said.
The Hendrix family includes six boys, who all attend Tonganoxie schools. The youngest is a first-grader, while the oldest is a junior. Overall, the Hendrixes have three students enrolled at the elementary school, two at the middle school and one at the high school.
Hendrix or Tate is expected to replace DeHoff, whose term would have expired in 2009.
Erickson said Monday that the school board has not yet determined a timeline for interviewing the candidates to replace DeHoff. The next regular school board meeting is set for 7 p.m. Jan. 14 in the middle school library.