Chieftains split home contest vs. Braves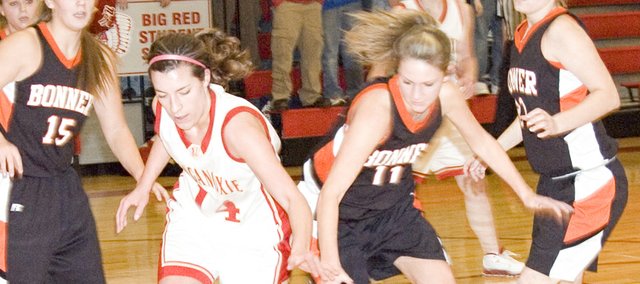 Shannon Carlin scored 14 points and Liz Baska scored 11 for the Tonganoxie High girls basketball team in its 53-46 victory against Bonner Springs on Friday.
Junior Chrissie Jeannin provided a Sports Center-worthy play to end the first quarter. With three seconds left, Jeannin caught the ball on the opposing free throw line. She took three dribbles and let go of a three-pointer from roughly four feet beyond the arc. The ball didn't touch any of the rim just the bottom of the net as time expired.
"I just caught the ball and looked up to see how much time was left," Jeannin said. "I just tried to push it as fast as I could. I didn't really think about the shot because if I missed it, it wouldn't be that big of a deal."
Tonganoxie took a 16-13 lead after Jeannin's long-distance heroics.
Friday was the first time senior guard Cara Carlisle played since Dec. 3, when she injured her knee against Highland Park. Carlisle played limited minutes about a minute per quarter and didn't score.
Tonganoxie and Bonner Springs had recent history brewing before Friday's game. Last season, the Chieftains went 22-1 before they participated in the Class 4A state tournament. The lone loss came against Bonner Springs.
"It feels good," Jeannin said. "We knew we could beat them last year, but we just didn't play very well. It's nice to get this win, because we knew we could beat them."
Tonganoxie improved to 6-2, while Bonner Springs fell to 2-4.
Bonner Springs boys 50, Tonganoxie 37
News flash: The Bonner Springs High boys basketball team can run.
Tonganoxie was ran out of its own gymnasium Friday against a speedy and pesky Bonner Springs defensive unit.
The Braves applied a full-court, man-to-man press the entire game. They sent THS players to the bench in noticeable frustration during substitutions.
The Chieftains fell behind, 9-0, in the first quarter. THS trailed, 30-10, by halftime.
Tonganoxie could take some positives away from Friday. THS outscored BSHS, 27-20, in the second half. The Chieftains opened the second half with a 9-0 run.
The Braves sealed the door, though, with a 6-0 run to end the third quarter.
THS freshman guard Jeremy Carlisle came out of the game with a knee injury in the second quarter. He didn't play the remainder of the game. Carlisle's right knee was wrapped in ice as he sat on the bench in the second half.
After the game, Tonganoxie coach David Walker said he didn't know the severity of the injury.
Tonganoxie dropped to 1-5, while Bonner Springs improved to 2-4.
See Wednesday's edition of The Mirror for the full stories.