Bichelmeyers, Pelzl agree on building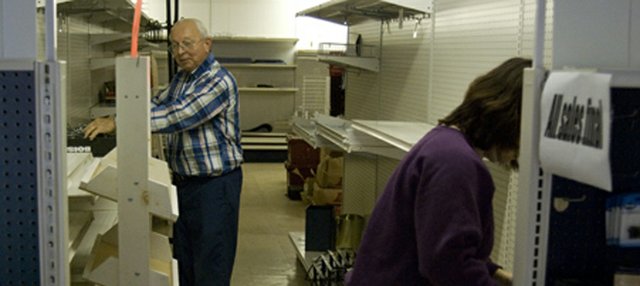 They brought some new life into downtown by opening an antiques store, The Royale, in October.
Now Matt and Vicki Bichelmeyer are at it again, buying the portion of a downtown building that housed Pelzl's Do-It Best Hardware and V & S Variety Store, which closed late last year. The building adjoins their Bichelmeyer's Steakhouse at 427 E. Fourth St.
"We are very excited about it," said Vicki Bichelmeyer. "We are going to be able to bring the whole building back together."
Last week, Don Pelzl agreed to sell to the Bichelmeyers after spending several months looking for different offers.
"I'll be glad when we close the deal and I can retire permanently," Pelzl said. "That would be a good feeling for me."
The building that houses Pelzl's store and the Bichelmeyer Steakhouse used to be Zoellner's grocery and general store. Matt Bichelmeyer said he wanted to use some of the existing doors connecting the two buildings as part of his expansion.
The expansion will be a new Chieftain banquet room that the Bichelmeyers plan on decorating with old pictures of Tonganoxie.
Matt said that for years the steakhouse has lost business by not having a private dining area for parties or other events. He said he thought the new 1,600-square-foot dining area, which will seat between 100 to 125 people, would fit a need in the community.
"We could have nailed down several Christmas parties this year," Bichelmeyer said about booking his restaurant for holiday events. "We will have space now for when we get calls for dinner receptions and different parties."
The Bichelmeyers want community businesses and schools to use the space.
As for the rest of the Pelzl's area, the Bichelmeyers want to split up the space and lease two retail spots.
Matt said he has been fielding some calls from different retailers.
One of the possible retailers owned a sporting goods store. Another possible retailer owned a furniture store.
Vicki said she would be interested in seeing a pet store in one of the retail spaces. Matt even suggested moving the Royale closer to the restaurant.
While nothing has been set, the two are happy with the possibilities.
"It's very exciting," Vicki said. "We always like the extra work. It keeps us going."
In the meantime, Pelzl is still hard at work, clearing out and cleaning up the inside of the building. He said he expects to be done in a few weeks if not a month and he expects to finalize the deal with the Bichelmeyers by the end of March.