Downtown experiences change
4th St. cafe gives way to Graves dance studio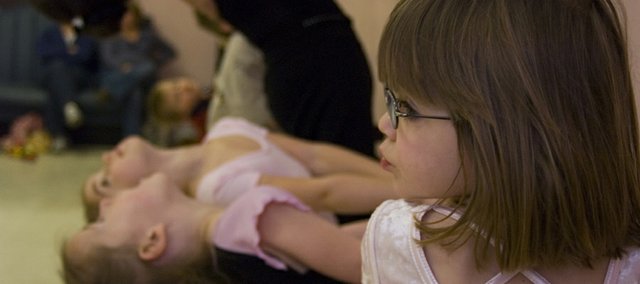 Brenda Graves said after 25 years of teaching dance, she tried to retire in 2004.
But some time after closing her studio in Olathe, she said she couldn't stand it.
Last year Graves decided to make her comeback in Tonganoxie. Now after several months of hard work, Brenda, her husband, Glenn, and students ranging in age from toddlers to senior citizens are able to see the huge transformation of the Fourth Street Cafe to Graves Talent Company.
"It looks a lot better than it did," said Gretchen Harbour, whose 4-year-old daughter, Mary, attends the studio. "It was a little scary at first, but we put our faith in Brenda, and I think it looks great."
Gone are the old booths, the bar and stools and the dinning tables. In their place are ballet bars, pink paint and a wall of mirrors.
Two of the booth seats remain. Brenda said she wanted to keep the pair so parents had a place to sit during practice.
Along with those conversions, the back room will be made into storage for dance costumes and a sewing room to create new costumes.
Glenn said he was happy to finally see all of those costumes move out of his basement.
"I haven't seen my pool table in eight years," he joked.
Brenda said she was happy with the location of the studio for downtown events.
"For Tongie Days, we are right here so they can dance right in the street come back, change and go back," Brenda said. "It will be really handy. Parades will be easier, too."
The conversion began by gutting the old kitchen equipment and furniture and selling what they could. Then came cleaning and replacing old tile, painting and adding insulation.
Glenn set a goal to have the front room finished by the New Year, which he was able to do. The only parts missing at the beginning of 2008 were the wall of mirrors and the light up sign outside. The mirrors were installed Saturday and the sign went up Monday.
"I was happy to do it," Glenn said. "This is the first time she has ever owned her own building."