Jayhawk Jubilation
McLouth alumnae make trip to Miami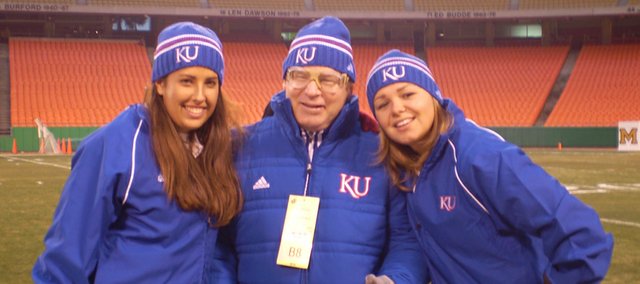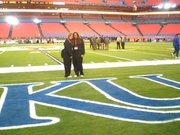 When the Kansas football team won the Orange Bowl and clinched its first Bowl Championship Series victory ever, two McLouth High School graduates were there.
Not only were Claudia Alterman and Kyrstan Perry at Dolphin Stadium, but the KU football equipment managers were on the sidelines in Miami.
"I got paid to watch a football game," said Alterman, a KU sophomore and McLouth High alumna. "I'd say it's the best job for a college student, especially a college student who loves sports."
Of course, equipment managers don't just watch the game from the sidelines. Alterman is a manager for the defensive line, while Perry is a manager for the offensive line. They help set up the locker room, help with laundry, collect footballs for the snappers, punters and linemen at halftime, and set up practice equipment, among other chores.
But there's no way around it. The job has its perks.
The McLouth natives received complimentary airfare and hotel reservations in Miami. Staying with the team at the Trump Sonesta Hotel in Sunny Isles Beach, Fla., wasn't particularly tough, either.
And how about the people they see along the way: Kansas Athletics Director Lew Perkins, legendary broadcaster Max Falkenstien, and radio broadcasters Bob Davis and David Lawrence, to name a few.
Kansas football coach Mark Mangino refers to Alterman and Perry as "the twins" because the best friends, who have known each other since the first grade, are always hanging out together.
In a recent practice in Lawrence before KU departed for Florida, Mangino made small talk with the twins about McLouth. Temperatures were frigid that day in Lawrence.
"Coach will ask us about McLouth and make jokes to us," Perry said of Mangino. "During practice, he came over and said, 'I bet people are swimming in McLouth.'"
Added Alterman: "He likes to talk about McLouth a lot. He actually knows where McLouth is. That day it was cold in Lawrence he said, 'Maybe you want to drive to McLouth to stay warm.' He just small talks about it."
The twins said they witnessed the most memorable football game of their lives Thursday after Kansas improved to 12-1, its best record in the history of the program.
While Kansas players and coaches accepted the Orange Bowl trophy on the stage, the twins were nearby, handing out Orange Bowl Champions T-shirts and hats,
and taking pictures from the field.
The most memorable play from the 24-21 KU victory?
"The most memorable play for me was Joe Mortensen's field goal block because that was at a crucial time," Alterman said. "The whole atmosphere was kind of surreal."
Added Perry: "Aqib's interception and runback was pretty nice," she said of junior cornerback Aqib Talib's interception return for a touchdown, which gave KU a 7-0 lead. "There was quite a bit of screaming, jumping and hitting each other on the sidelines."
The twins have gotten to know some of the players, too. Perry said junior Anthony Collins had the most intriguing personality.
"Probably the most outgoing person is A.C.," Perry said of Collins, who, along with Talib, will forgo their senior seasons at KU to enter the NFL draft. "He's just a goofy person. At first, when you meet him, you'd be intimidated (6-foot-6, 310 pounds). But he's really just a big teddy bear."
Alterman plans to study journalism at KU. Perry is still undecided on a major but is considering interior design or business.
The fact that the Jayhawks completed their most successful season in school history is impressive, but they might have had it coming to them all along. Alterman joked about all of her teams succeeding, regardless of where she goes.
She was a manager for the McLouth High football team for two years. In 2005, her senior year, the Bulldogs went 10-1 and were undefeated in the Delaware Valley League. McLouth has gone 3-6 and 1-8 the last two years Alterman has attended KU.
After arriving in Lawrence, KU had its best season ever. Good luck charm?
"I haven't figured out why that is," Alterman said. "I could probably market that."