Last-second three-pointer sparks
THS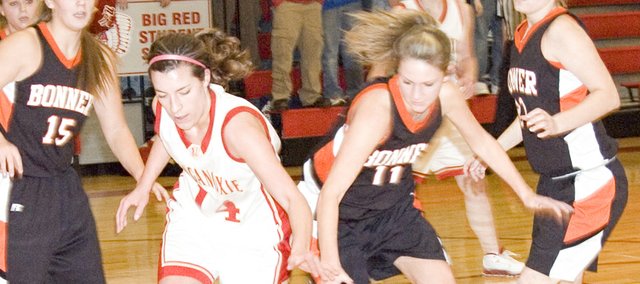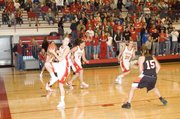 Only three seconds remained in the first quarter when Chrissie Jeannin received the ball roughly 60 feet away from the basket.
The junior point guard took three dribbles, stopped about four feet beyond the arc and let her momentum carry her into a shot just before time expired. The ball didn't touch any part of the rim - just the bottom of the net, amidst an energized Tonganoxie High crowd.
"I just caught the ball to see how much time was left," Jeannin said after Tonganoxie's 53-46 home victory Friday against Bonner Springs. "I tried to push it as fast as I could. I didn't really think about the shot because if I missed it, it wouldn't be that big of a deal."
Instead, Jeannin's long-distance heroics gave THS a 16-13 lead after the first quarter.
"Oh, I knew she was going to hit that," Tonganoxie coach Randy Kraft quipped. "But no, I had no idea she was going to hit that three. She did a good job. With time running down, you do what you can. She put up a good effort and it went in for her."
How confident was Jeannin after she let it fly?
"I was thinking, 'It's right on. It's going,'" Jeannin said. "We were kind of dead in the first quarter, but after that, we picked it up a little more."
Aside from senior Liz Baska hitting a three-pointer 10 seconds into the game, both teams looked sloppy early in their first game back from winter break.
"Shooting-wise, it's usually a little rusty," Kraft said of the first games back from break.
Tonganoxie and Bonner Springs have a recent history of memorable games. Last season, the Chieftains went 22-1 before they participated in the Class 4A state tournament. The one loss occurred in Bonner Springs' home gymnasium.
"It feels good," Jeannin said. "We knew we could beat them last year, but we just didn't play very well. It's nice to get this win, because we knew we could beat them."
Senior forward Shannon Carlin led the Chieftains with 15 points. Baska added 11.
Bonner Springs (2-4) didn't allow Tonganoxie (6-2) to build a comfortable lead. THS led by four at the half and by only one after the third quarter.
"We won, but we did not play exceptionally well tonight," Kraft said. "I told the kids when things aren't going right, you have to learn how to win those kind of games, too. I think it's a mental thing. Hopefully, we regroup mentally."
Friday was the first time senior guard Cara Carlisle played since Dec. 3, when she injured her knee against Highland Park. Carlisle played limited minutes - about a minute per quarter - and didn't score.
"She obviously wanted to play more and felt physically like she could play more," Kraft said. "Right now, she's not in rhythm. When she got in there, she did a good job. I'm trying to ease her in and give her a minute per quarter to see where she's at. She's doing well in practice, but the game is a different situation."
Tonganoxie returned to action Tuesday night against Perry-Lecompton, but the game ran past The Mirror's press time. THS will play again Friday at 6 p.m. at Mill Valley.