Water main delays McLouth schools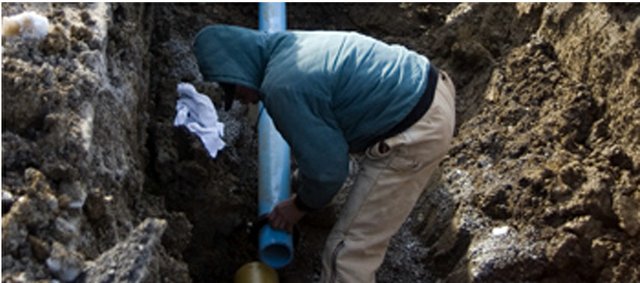 McLouth students who just wanted that extra day off before going back to school after winter break got their wish Thursday after a water main near the school burst, forcing the district to call off school for the day.
Sometime before 6 a.m., the 4-inch water main on the southwest side of Cynthia and Summit streets burst, shooting water onto the school grounds and surrounding yards.
"The ground was so dry this summer that it just turned the surrounding dirt into clay," Carl Chalfant, McLouth city superintendent, said about the soil surrounding the broken main. "When it gets cold (the ground) just starts to pull on the old cast iron pipes."
As soon as they found out about the rupture, city crews were out in the 20-degree weather trying to replace the broken pipe.
Standing in a heap of freezing cold water and mud, the crews were able to replace the broken pipe with a 4-inch PVC pipe.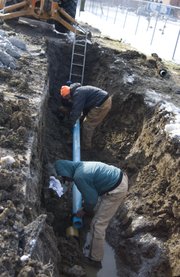 Chalfant said a similar incident happened on the same section of pipe two years ago.
Jean Rush, McLouth schools superintendent, received a call from the city around 6 a.m.
By 6:28 a.m. the school's automated system began calling parents to let them know school was canceled.
Rush said one of the major factors in canceling school was that although parts of the high school had water, the cafeteria did not.
"It's the biggest issue for sanitation in food service," Rush said. "Our food service would not have been able to prepare lunch."
The McLouth School District had already closed down for four days last month when ice had knocked out the school's power. With this extra day off, Rush said the school board would have to look into how the school could make it up.
For that reason the extra day off was a double-edged sword for some McLouth students.
Jacob Vandyne, a third-grader at McLouth Elementary School, stayed home Thursday along with his two sisters, who attend the middle school and high school.
Dancing around in his kitchen, Vandyne said he liked the extra day but added he was ready to go back, "so we don't have to make it up in the summer."
Kelsey Sharon, Vandyne's sister who is in eighth grade, also wanted to go to school Thursday.
"I don't like it because now I have to clean my room," she said.
The water main break affected some homes and businesses along Cynthia, Summit and Union streets. Nicole Willits, McLouth city clerk, said customers had their water service started again by about 11 a.m.