Heritage Center updates building, gives seniors place to have fun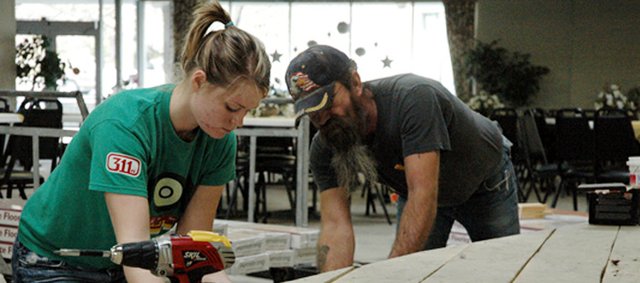 It's been a big year for the Heritage Center in downtown Leavenworth, but plans for the coming year are even bigger and better.
Along with the new year, Heritage Center staff is welcoming a brand new kitchen to its facilities at 109 Delaware St. Construction started in March 2006 after a $36,000 donation from the Parsons family.
Scotty Brezgiel, secretary and treasurer of the Heritage Center board, said when the center moved into the location in 2005 it was a "big shell of a building."
"When we started on this building, it was just a big open space with holes in the floor, pipes running down and wires hanging from the ceiling. It was just a mess," she said.
Slowly but surely funds have been raised and improvements have been made to the center, which serves senior citizens from across Leavenworth County. Last year Brezgiel said about $100,000 was raised through donations of companies and individuals. This has allowed the center to build the new kitchen and get the building to a point where local residents can come and enjoy the programs that are provided.
But work isn't over yet. Come 2008, workers will be installing a floor to a new stage, building a kitchenette, adding restrooms, laying flooring and hanging a ceiling.
"We still have more to do," she said. "We just kind of go forward one step at a time as we get funds."
The center mainly relies on volunteers to work on most of the construction projects that take place. Brezgiel said the center is hoping to find certified electricians willing to volunteer time to improve electrical work throughout the 11,000-square-foot building.
Brezgiel said many of the patrons who frequent the center's activities feel a sense of ownership, so the center has been able to get thousands of hours of volunteer time throughout the year.
"Because they enjoy it, they really come forth and help us out," she said of area residents who participate in center programs.
Another big change to come about will be the extension of operating hours. Instead of closing at noon, the center will be open from 8 a.m. to 4 p.m. Mondays through Fridays. Brezgiel said staff began to realize people wanted to use the center more than was being allowed previously.
Whether it's renting out the space for private parties or hosting club meetings or senior citizen-related activities, Brezgiel said the new hours would better serve the community. The center will even be able to expand its programming.
Brezgiel said a big Mardi Gras celebration was being planned as well as a John Philip Sousa program in the spring. The center also will continue its Monday night joker events and its Thursday morning Kaffee Klatsch.
The goal for the center is to give senior citizens of the community a home away from home, Brezgiel said.
"It gets them out of the home, acquainted with other people and gives them a good place to go for fun," she said.