Mill Valley boys defeat Tonganoxie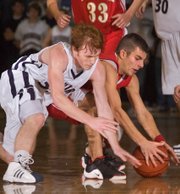 Shawnee — The Tonganoxie boys basketball team lost on the road to Mill Valley, 57-40, on Friday.
The Chieftains simply didn't have an answer for the Jaguars' trio of three-point shooters.
The Jaguars made eight 3-pointers in the game.
Max Carroll made a trio of them and finished with 15 points. Caleb Smith also made three from behind the arc and scored 15. Tanner Rainbolt made two in the game.
The Chieftans were led on offense by Gabe Belobrajdic who scored 15 points.
Mill Valley led 23-12 at halftime and salted the game away in the third quarter by outscoring Tonganoxie 17-10 in the third quarter.
Mill Valley also used a strong press against Tonganoxie.
"I think we key off of our defense, which helps us to create on offense and get out and play a little bit," coach Justin Bogart said.
The score was 39-22 entering the fourth quarter of play.
Tonganoxie (2-7) will continue play this week with three games in the Tonganoxie Invitational. THS will face top-ranked Atchison in the first round at 7:30 p.m. Tuesday at the THS gymnasium.
The Chieftains defeated Leavenworth Immaculata to place third in the tournament last season.