Tonganoxie girls team defeats Mill Valley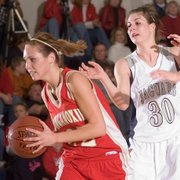 Shawnee — The fourth quarter took eight minutes on Friday night, literally, which was a good thing for the Tonganoxie girls basketball team, which defeated Mill Valley, 65-33, on the road.
It was a sign of how well the last eight minutes had gone.
The Chieftains outscored Mill Valley, 27-4, in the third quarter and led 59-29 entering the fourth quarter.
As a result of the 30-point differential, the quarter was played with a running clock, a sign of how well Tonganoxie played in the third quarter.
The Chieftains started the quarter on a 11-to-3 run and never looked back as Ronnie Grizzle and Shannon Carlin filled up the net with baskets for the Chieftains.
Tonganoxie made threes and two-point field goals in the quarter.
"We shot particularly well and then we got off to a good start and once we got rolling, we were able to keep it going," coach Randy Kraft said.
The fourth quarter was played with a running clock per Kaw Valley League rules.
Once the point differential dips under 30 points, then the clock stops and starts again with foul shots. The clock never stopped running as Tonganoxie opened on a 4-0 run and controlled the quarter.
Carlin led Tonganoxie in scoring with 19 points. Grizzle finished with 16 points and Liz Baska scored 12 in the game. Chrissie Jeannin finished out the team's double-digit scorers with 10 points.
Mill Valley didn't have a player score in double figures. Brittany Gardner led the team with eight points including a couple of threes.
The Chieftains domination started in the second quarter of play. Tonganoxie outscored Mill Valley 20-14 after leading 12-11 at the end of the first quarter.
Tonganoxie (8-2) will continue play this week with three games in the Tonganoxie Invitational. THS is the No. 1-ranked team in the tournament and will face Rossville at 6 p.m. Tuesday at the THS gymnasium.
The Chieftains won the tournament last season.