THS

wrestling wins home invitational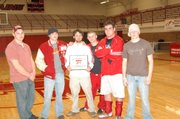 The Tonganoxie High wrestling team won the Randy Starcher Invitational on Saturday at its home gymnasium.
THS coaches said it was the first time the Chieftains won the invitational when every team was present. Tonganoxie won the invitational last year, but not every team made it to THS because of inclement weather.
Tonganoxie won this year's invitational with 237 points.
Blue Valley West placed second with 215 points, followed by Rock Port (Mo.) with 151.
THS had five wrestlers make it to the finals of the invitational. Matt Brock (130-pound weight class), Travis Adcox (140), Zach Kaighin (189) and Cameron Adcox (289) won their respective weight classes. Steve Davis made it to the finals and placed second in the 171-pound weight class.
Travis Adcox was named the invitational's most valuable wrestler.
See Wednesday's edition of The Mirror for the full story.