AHS

in familiar territory as favorite at invitational
Tonganoxie has been a home away from home for the Atchison High boys basketball team.
The Redmen have made their mark as the most successful team to play in the Tonganoxie Invitational the past few years.
Atchison has won the Tonganoxie Invitational in 2003, 2005, 2006 and 2007. You might have noticed 2004 was missing from that list. That year, Atchison participated in a Basehor-Linwood tournament in January - and won it.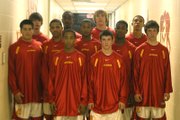 This sort of recent dominance pits this year's 6-3 Atchison team as the favorite to repeat for a fourth straight year.
Atchison's level of success in the Tonganoxie Invitational can be paralleled to its success in the Kansas Class 4A state tournament.
The Redmen have made the state tournament in four of the seven seasons that George Ross, Jr. has been the head coach. Atchison went as far as the final four in 2004 and 2006.
With the level of success AHS has achieved, it came as little surprise that Ross wasn't completely satisfied with the 6-3 record.
"Two of those three we let get away," Ross said. "They were well within our grasp and we just didn't perform well enough those nights to get the win."
All three of Atchison's losses have been against Class 5A schools.
Atchison has an impressive win against Louisburg, previously ranked No. 3 in Class 4A, on its 2007-2008 resume. Louisburg was an undefeated 7-0 before it faced Atchison at home.
"We were down by double digits a couple of times in that game," said Ross, who carries a 120-56 coaching record at AHS. "These guys have an uncanny way of never feeling out of a ballgame."
AHS ended up winning by 13.
Senior guard Anthony Downing is arguably the most talented Atchison player. Downing, who won the Tonganoxie Invitational MVP last season, is a three-year starter for AHS.
Downing has received looks from a few mid-major level Division I colleges, including a few Missouri Valley Conference schools, according to Ross.
"He's a good shooter and he sees the floor very well," Ross said of Downing. "He comes from a basketball family."
Indeed, Downing's father, Matthew "Cougar" Downing, played collegiate basketball at Maryland under coach Gary Williams. Matthew is an Atchison High graduate and helped the Redmen win two state championships during his high school days. He's currently the boys varsity coach at Bishop Seabury Academy in Lawrence.
Furthermore, Downing's grandfather, Chic Downing, won multiple state championships as a coach at Atchison, according to Ross.
The Redmen lost three senior starters from last year's team, which finished 18-5 and reached the quarterfinals of the state tournament.