Chamber honors 2 as citizens of the year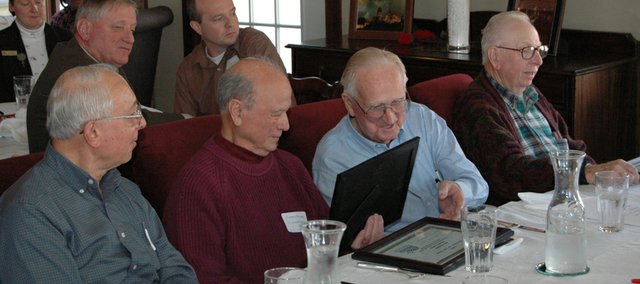 The Tonganoxie Chamber of Commerce recognized more than one person as Citizen of the Year at Tuesday's annual meeting.
Bo Himpel and George Cooper were recognized as Citizens of the Year by the Chamber.
Roughly 50 people attended the event at Amanna Elan, which recognized Himpel and Cooper, as well as several other residents.
Himpel has been active in the community for more than 50 years. At age 84, he still works an average of 40 hours per week at Himpel Lumber.
Himpel was a major player in making VFW Park a reality, monetary contributions and labor. He has given donations anonymously to several nonprofit organizations in Tonganoxie. And, he has given many hours of his time mowing and cleaning up VFW Park.
Cooper, meanwhile, is board chairman for the Tonganoxie Community Historical Society. He has served in that capacity for 10 years. A member of the Congregational Church, he also has encouraged local Scouts to use the historic site facilities free of charge and then has them volunteer their services back to the historical society.
The society annually brings Tonganoxie Elementary and Genesis Christian Academy students to the site for a day of history. During the presentations, Cooper participates by showing "Tracy the Outlaw," a silent movie starring Tonganoxie's own movie star, Jack Hoey.
Chamber board member Kathy Graveman said Himpel and Cooper played important roles in Tonganoxie.
"My personal opinion is they are a very valuable asset to the community," Graveman said. "They're just involved in everything. They're a person you can count on when something needs to be done."
She also explained that the chamber received numerous nominations for the award, which made selecting someone for the honor difficult. She drew a direct correlation between the increased nominations and the chamber's increased membership.
"I think that the chamber has changed a lot in the last several years," Graveman said. "And the membership has become very active and we have between 30 and 40 people at every meeting now. I think because of that there is more participation."
Other awards were handed out Tuesday, including chamber member of the year honors and community service awards.
Jandi Smith and John Fiore of Sunflower Broadband were named members of the year.
"They've been very active in the chamber," Graveman said. "They've sponsored some of the meals and two silent auctions."
And, two longtime Tonganoxie merchants were recognized for their years of service in downtown Tonganoxie.
Don Pelzl, owner of Pelzl's Do-It Best Hardware and V and S Variety Store, and John Lenahan, owner of Lenahan's Hardware. Pelzl closed his doors in 2007 after 28 years in business; Lenahan retired after 35 years in business.
"We wanted to recognize them for their years of service in the community," Graveman said. I think they've been a wonderful business asset to the community, and we're sorry to lose them. "But we're happy for them that they can retire."
At Tuesday's meeting, the chamber took care of business within its organization as well, announcing the 2008 board of directors and officers.
The board is: president Steve Christensen, First State Bank and Trust; vice president and secretary Blake Waters, First State Bank and Trust; treasurer Marcy Manion, Gatehouse Media; officer John Evans, Evans Real Estate; officer Kathy Graveman, Magnatech Engineering; and officer Margaret Steele, Kansas Gas Service.
Outgoing director is Lana Howe of Vintage Soap and Bath.
Guest speaker for the event was David Kerr, secretary of the Kansas Department of Commerce. He joined the department after serving as president of AT&T Kansas from 2003-07.
Kerr grew up in Ness City, graduated from Savior of the World High School in Bonner Springs and attended Fort Hays State University. He earned bachelor's degrees in both economics and business administration from Avila University in Kansas City, Mo., and is a former Topeka Jaycee of the Year.