Jeff West 6-foot-7 post man could have Division 1 potential at next level
If basketball fans wanted a glimpse at a potential Division I athlete playing in this week's Tonganoxie Invitational, they're in luck, thanks to Tom Shirley of Jeff West.
Shirley has basketball blood running through his family. His older brother, Paul Shirley, played collegiate basketball at Iowa State and had a brief stint in the NBA with the Phoenix Suns.
It won't be too difficult to spot Tom Shirley at the tournament. Just look for the Tigers' 6-foot-7 post presence, No. 31.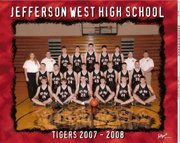 "He's also a kid who can play along the perimeter as well," Jeff West coach David Overstreet said. "He can move off the dribble as well. He doesn't just play in the post. He's pretty skilled for a kid that size."
Shirley, a senior, is a two-time all league selection in the Big Seven League. He's averaging 15 points and 10 rebounds per game this season.
He's also an imposing force on defense. Shirley led the Big Seven with 77 blocked shots last season.
Overstreet said Shirley has received some interest from Air Force and Missouri State.
"He has the skill to play at the next level," Overstreet said. "That's what he wants to do.
Jefferson West will enter the Tonganoxie Invitational with a bit of a surprising 2-5 record.
Jeff West has lost to Silver Lake, Perry-Lecompton, Sabetha and Nemaha Valley.
"We're definitely not satisfied," Overstreet said. "I'm stressing defense and rebounding more every day in practice. We're getting better at that."
Jeff West lost three seniors from last season's team, which finished 9-13 and lost to Topeka Hayden in the second round of sub-state.
Shirley and Myles Wulfekoetter are the two returning senior starters this season.
Wulfekoetter plays point guard for the Tigers and is their second-leading scorer behind Shirley.
"He's our floor general," Overstreet said of Wulfekoetter. "He runs things for us on offense and is one of our overall leaders. It's like having a coach on the floor with him."
Jeff West went 1-2 in the Tonganoxie Invitational last season. It defeated Pleasant Ridge, and lost to Tonganoxie and Lansing.