Jeff West girls play pressure defense
Jeff West girls basketball coach Dan Hypse is pleased with his team's defensive effort in the 2007-2008 season.
The Tigers' offense is still playing catch-up.
"We haven't gotten consistent scoring and we're not shooting the ball consistently," Hypse said.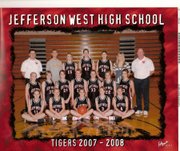 Defensively, Hypse said the Tigers would ideally set an up-tempo tone with constant pressure being applied to the ball. Hypse will rotate nine girls in and out of the lineup so Jeff West regularly has fresh legs to apply defensive pressure.
Jeff West enters the Tonganoxie Invitational with a 4-3 record.
The Tigers lost three seniors from last year's team that finished 7-14. Jeff West lost to Topeka-Hayden in the first round of sub-state last year.
Hypse, in his second year as head coach, led Jeff West to a 1-2 record at last year's Tonganoxie Invitational.
Senior Marcia Beecham plays the power forward for JWHS and is an effective inside presence. Hypse lauded her ability to rebound.
Nichelle Palmateer could be an intimidating post threat for opposing teams this week. The Tigers work the ball into the senior post player, who stands six feet tall, on a regular basis. Palmateer is Jeff West's primary inside scorer.
"We just want to play well and be consistent," Hypse said. "For us, every win is a big win. That's how I look at it. We're going to get to play people we normally don't get to play."